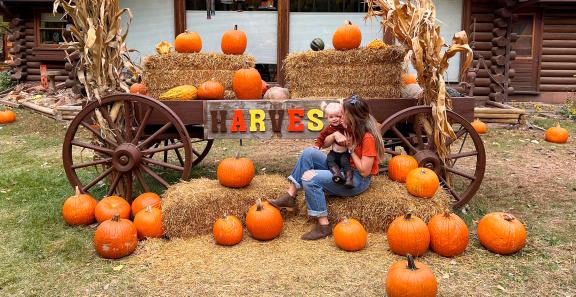 Find Fall Adventures in North Dakota
Fall foliage, scenic drives, pumpkin patches, corn mazes and spooktacular events make autumn a special time.
Fall in North Dakota is a season best spent on scenic drives and hikes and in North Dakota's many pumpkin patches and corn mazes. But be on the lookout for reports of zombies on the loose in Fort Abraham Lincoln State Park as we get closer to Halloween.
Festive Fall Events
Fall is a colorful time in North Dakota, not just in the trees that blaze orange and red and yellow as seasons change, but in our towns and cities as well. Many hold fall festivals and arts and crafts fairs as they get a jump on early holiday shopping. Bismarck, Fargo and Minot have Big One Arts and Crafts Fairs. Don't miss the fall events in Medora!
Fall Foliage
Each fall, the North Dakota Tourism Division provides a weekly fall foliage report compiled from sources through the state at prime leaf-watching spots. Check the fall foliage landing page for updates.
Some of the areas most frequently visited in the fall include the Turtle Mountain region, Theodore Roosevelt National Park, the state's 10 scenic byways and backways and North Dakota's state parks.
Fall Activities
Whether you are searching for the perfect pumpkin, a challenging corn maze, or simply getting the family out to enjoy the fresh air, you're certain to find a legendary experience at one of these destinations in the fall.
Papa's Pumpkin Patch, Bismarck
Whether you want to sit a spell and enjoy nature, or burn off some extra energy, you'll find opportunities all around you at Papa's Pumpkin Patch! Most activities are free; some are only available on weekends and Thursday evenings. 5001 Fernwood Drive, Bismarck, ND 58503. Phone: 701-222-1521.
Coleman Corn Maze, Bismarck
The Coleman Corn Maze offers family fun activity for fall weekends. This year's rain will assure a challenging 10 acre maze. New in 2022 U-pick sweet corn, more games and food. Check for updates on Facebook and Instagram. Phone: 701-391-0102.
Rheault Farm, Fargo
Pumpkins, straw bale maze, carnival games. 2902 25th Street South, Fargo, ND. Phone: 701-499-6060.
Nelson's Pumpkin Patch, Emerado
Pumpkin patch, corn maze and hayrides. 2448 20th Avenue N.E., Emerado, ND 58228. Phone: 701-610-9564
Grafton Corn Maze and Pumpkin Patch, Grafton
Four-acre corn maze and monster hunt is only part of the seasonal activities. 715 W. Fifth St., Grafton. Phone: 701-352-1842
Lil Bitz Pumpkin Patch, Fargo
Over 25 attractions included with your gate admission including horse drawn wagon rides, corn maze and more. Phone: 701-282-9392
Berry Acres, Minot
Corn maze, corn box, tire mountain, zip trak, bales with slides, pedal cars and much more. Phone: 701-839-0701
Cottonwood Forest, Williston
Zip Line, Corn Box, Bale Mountain, Tire Gym, Sand Box, Jumbo Jumper, Pedal Cars, Train Rides, Kiddie Rides and more. Phone: 701-570-5646
A-Maze-N Clown Pumpkin Patch, Jamestown
The A-Maze-N Clown Pumpkin Patch is hosted by the El Zagal Jamestown Shrine Clowns. Phone: 701-320-7653
Maddock Renaissance Festival Corn Maze, Maddock
Lost in the Valley Corn Maze and Pumpkin Patch, West Fargo
Spooky Seasonal Events
Colors aren't the only things that come out in the fall. The cool north wind usually brings with it ghosts and goblins the herald the Halloween season.
If you're looking for a frighteningly good time, check these out:
Fort Abraham Lincoln Haunted Fort, Mandan
Acres of Terror, Leonard
Legends of Terror Haunted House, Grand Forks
Dark Acres, Williston
Enchanted Castle, Elgin
Haunted Hospital, Dickinson
The Crypt at Jacobs Manor, Leonard