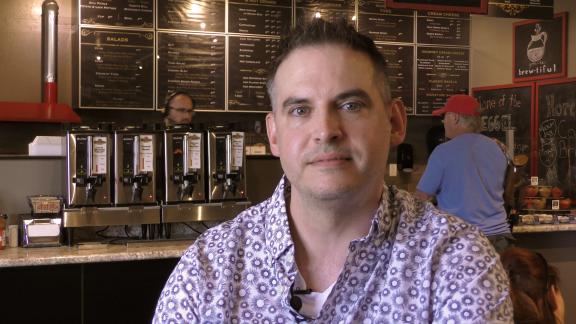 Dan Boyce: Broadway Bean and Bagel
"We always want to make sure that everybody starts their day with a smile, because it's hard to get through the day until you get that first cup of coffee."
Dan Boyce is a North Dakota native who grew up in a home where the coffee pot was always on and his folks had people over all the time to converse over a hot cup. Because of this, he's always felt that strong connection to coffee. Now Boyce is the owner of Broadway Bean and Bagel in Minot, North Dakota.
Broadway Bean opened in 1995, making it the oldest coffee shop in Minot. Dan took over the business in 2011, making a strong effort to hold true to the shop's origins while providing an opportunity for growth. He says that he wanted to bring the next level of coffee to Minot, the artisan craft style, and to roast the beans on site for that fresh, full flavor. The Broadway Bean experience includes connecting customers to that "North Dakota Nice" experience of helpful, smiling faces. That commitment has led to Broadway Bean and Bagel being voted the number one breakfast spot in Minot, and it gets customers from nearly every place in the world.
When Dan travels in North Dakota, he seeks out locally owned shops to get a true taste of each community. A couple of spots that he suggests checking out when visiting North Dakota, other than Broadway Bean, of course, are Urban Stampede in Grand Forks and Boneshakers in Bismarck.
Dan states that there are many hidden treasures in Minot. "During the summer, my favorite place is the Roosevelt Park Zoo. Nothing is better than walking and seeing the otters playing in the water or feeding the ducks or baby goats. Minot Summer Theater has always been a highlight of the year with their amazing casts and the ability to watch great performances as the sun goes down. During the holiday season, my family always has the tradition of going through the Sertoma Christmas in the Park in Oak Park. Wonderful time sipping hot chocolate and looking at the light displays."
Be sure to check out Broadway Bean and Bagel next time you are in Minot.