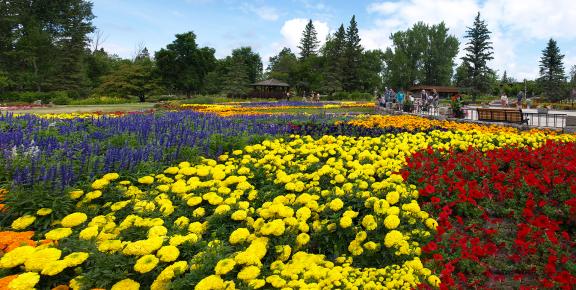 The International Peace Garden is a must-see North Dakota destination
Peace rings in every inch of the garden's being, it is "Like No Other Place on Earth," a perfect and memorable retreat, where people and nature meet.
The International Peace Garden is a unique and beautiful 2,300-acre park in North Dakota situated on the border between the United States and Canada. Established in 1932, it is on the world's longest international border and is a symbol of peace and friendship between the two countries.
Filled with colorful flowers, shrubs, trees and statues, the Garden honors the cultural differences between the two nations. Visitors to the Garden can explore gardens, trails, and monuments. The Garden is also home to a variety of wildlife, including deer, wild turkeys, and other birds - it has a number of ponds and lakes that provide a home for ducks, geese, and more.
The International Peace Garden is a popular destination for visitors from all over the world. The Garden hosts events and activities throughout the year and also offers educational programs. It also has a memorial chapel and museum that commemorates peace, freedom, and international friendship.
A beautiful place to visit for anyone looking for a peaceful and relaxing experience. The Garden is a place of beauty and serenity, and is a reminder of how two countries can live in peace and harmony.
The Garden is visited by over 200,000 people each year and is a popular tourist destination for visitors from all over the world.
A Dedication to Peace
The Sunken Garden is located in the Formal Garden and displays a focal octagonal pond with two adjoining reflecting pools. Within the garden stands a six-foot-tall, polished stainless steel sculpture depicting a set of hands releasing a dove on a pedestal of white granite in a fountain surrounded by shooting sprays of water. This sculpture is dedicated to the continuation of the peaceful border the U.S. and Canada have shared for over 200 years.