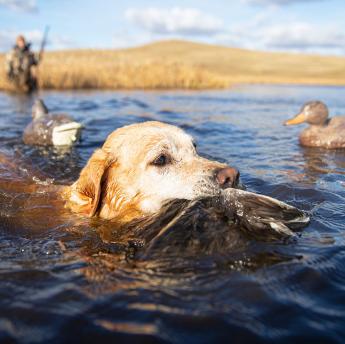 Your favorite new hunting grounds just might be here in North Dakota
Follow your curiosity, and millions of migrating ducks and geese, to the Central Flyway through North Dakota. The only crowds here fill the skies, making North Dakota one of America's premier waterfowl hunting destinations. Hunt vast flocks of Canada geese, white-fronted geese and light geese. Duck species are abundant, with mixed limits on mallards, gadwall, scaup, wood ducks, redheads, pintails, canvasbacks, blue-winged teal and mergansers.
Our fields and rolling hills also make North Dakota famous for its seasons on upland game like ring-necked pheasants, sharp-tailed grouse and Hungarian partridge. Outfitting and guide services are available, so come have the hunt of a lifetime.
Click here for newly enacted electronic posting and trespass laws
Looking for a hunting adventure that you could tell friends and family about for years to come?
North Dakota can be that place. Waterfowlers and upland game hunters can hunt until the season ends in early December to early January. In early November, hunters put down their shotguns and take up their rifles as deer season gets under way. Deer hunting is a traditional rite of passage for young hunting enthusiasts in North Dakota.
The North Dakota Game and Fish Department has comprehensive details regarding big game, upland game, waterfowl, furbearers, other migratory birds, and more.
Click here for details on game species
SET YOUR SIGHTS ON NORTH DAKOTA HUNTING