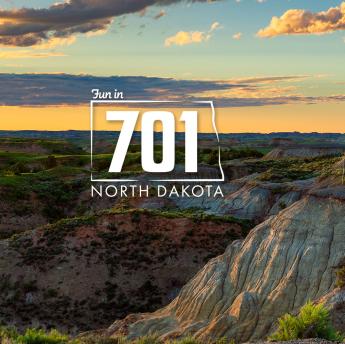 Fun in 701
North Dakota is one of the few states in the country with only one area code, but that's not the only thing that makes us unique. Do you have an Enchanted Highway lined with giant metal sculptures? We do. How about miles of stunning sunflower fields every summer? Got that too. Or one of the few line-free national parks? We call that our backyard. Here's all the ways you can celebrate the legendary 701 from near and far or right here in the Peace Garden State.
New things to See in 2023!!
Coming soon:
North Dakota GIFS
Check out our North Dakota GIFS on social! Here's how to find them:
Head to Facebook, Instagram or Snapchat and take a photo or video to start a story post.
Search "North Dakota" in the GIFS section.
Add and share to your content to make it legendary!
North Dakota Anthem
You may need more than one trip to North Dakota to experience the beauty of the state's expansive prairies, parks, mountains, lakes and nature preserves. Listen to this beautiful North Dakota Anthem to learn all about our legendary state. Follow your curiosity, not the crowds. (Music and lyrics by Kyle Gagner and Josh Silbernagel)
Quirky, Unusual and Hidden Gems
North Dakota is full of quirky and unusual sites and structures, as well as hidden gems! From a giant cow to the only surviving Whirl-A-Whip ice cream machine, you can find something to pique anyone's curiosity in North Dakota.
Postcards
Virtual postcards allow you to share beautiful landscapes, outdoor adventures and community experiences with anyone in the world. Simply choose a photo from the gallery, write a personalized note and simply hit send for it to be delivered directly to their inbox. Photos include winning photographers from the virtual postcard social contest.