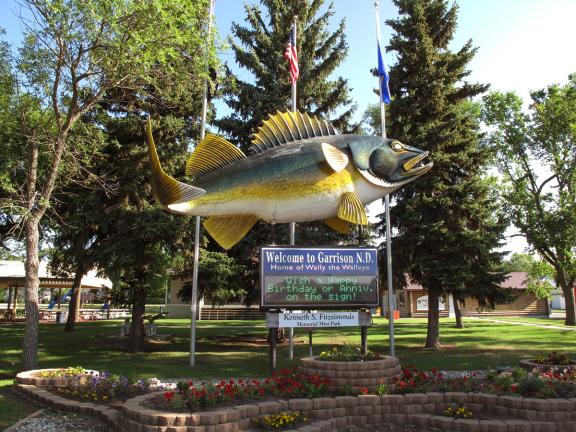 Garrison
If you've ever been to Garrison, chances are pretty good you've seen Wally. If you haven't been, then go and look at Wally, then you'll know what this community on the north side of Lake Sakakawea is all about.
Wally the Walleye is a 26-foot-long statue on the north end of Main Street that proclaims Garrison as the Walleye Capital of the World.
Fishing is, however, a big part of the outdoor recreation scene that draws visitors to the city. But before heading out to nearby Fort Stevenson to visit the Guardhouse Museum and Visitor Center, or drop a boat in the water and one of two marinas within the park, check out the North Dakota Fishing Hall of Fame and North Dakota Firefighters Hall of Fame on the way up Main for a photo op with Wally.
In the winter, fun activities take over during the Dickens Village Festival, a three-weekend Christmas-themed event between late November and mid December. The town of Garrison is transformed into a Dickensian village complete with street food vendors, light parades, carriage rides and the return of the double-deck Elizabus. Evenings are capped by theater productions.
Recreational opportunities in town include the Garrison Swimming Pool, Garrison Golf Course (with a simulator for those rainy days), an 18-hole disc golf course and Garrison Lanes. After playing, it's time to get down to some shopping and This That' N More and Flowers 'N Things have unique gifts. Wanna catch the newest movie release in a retro theater, check out what's playing at the KOTA Theater. When you're played and shopped out, step into Four Seasons Restaurant for some homemade food or Ye Olde Malt Shoppe, a 50's-style restaurant, for a scoop or two of ice cream. 
After you've seen the sights and eaten, visit the Custer Mine Overlook just off Highway 83 east of Garrison. The site showcases a piece of Garrison's early coal mining history and is maintained as Custer Mine Interpretive Site. It is the former location of the Truax-Taer Mine.
One of Garrison's biggest draws is Fort Stevenson State Park, just south of town on the shore of Lake Sakakawea. Fishing, camping, boating and history are all found within the park.
Click here for more things to see and do in Garrison