2022 Governor's Travel and Tourism Award Winners
Tourism Director Sara Otte Coleman and Destination Marketing Association of North Dakota (DMAND) president Julie Obrigewitsch presented seven Governor's Travel and Tourism Awards today during the North Dakota Travel Industry Conference in Grand Forks.
The Governor's Travel and Tourism Awards recognize the passion and dedication of North Dakotans who have contributed to the growth of travel and tourism in North Dakota.
"With tourism being one of North Dakota's leading industries, we are happy to recognize these outstanding leaders who work hard every day to showcase our state to travelers," Gov. Doug Burgum said. "Their dedication and creativity are prime examples of why North Dakota attracts so many visitors each year. We are grateful for the commitment of more than 2,900 businesses and 40,000+ employees that make up the travel and tourism sector that help differentiate our state, make trips to North Dakota memorable and diversify our economy."
2022 award winners: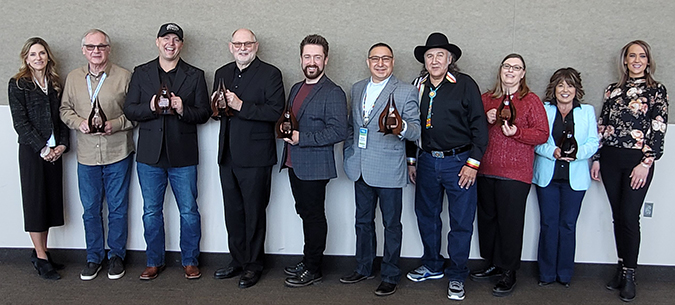 Sakakawea Award for a Behind-the-Scenes Tourism Employee
Joel Walters
Dickinson CVB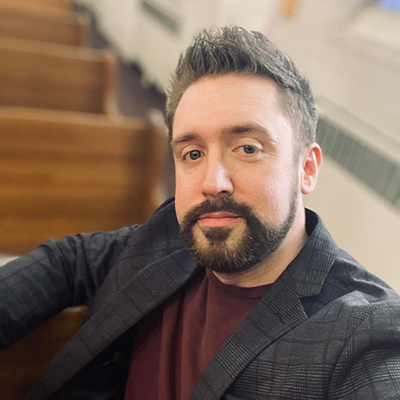 This award recognizes an individual who provides outstanding service behind the scenes in visitor-focused businesses.
Starting the summer after high school graduation, in 2003, he began working the front lobby in the CVB but quickly grew into a new position of photography, video, and online marketing. He has created a Local Food Tour flyer, community History Podcasts, and most recently a project that has demonstrated regional collaboration.
Thinking of a unique way that could drive web traffic and provide a visitor experience to his community and along the Old Red Old Ten Scenic Byway and beyond to Medora, he created The Coffee Cruise, a traveling trail of unique coffee shoppes. The Coffee Cruise takes you on a road trip through towns that you typically wouldn't go through if traveling on I-94. This, in turn, provides an economic boost to these rural communities and their small businesses.
Telegraph Award for Marketing Technology 
Greater Grand Forks CVB
FORKS: Five in Five Campaign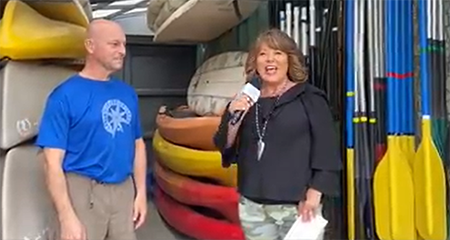 This award is given to a tourism entity with creative use of social media platforms, websites, applications, or data driven consumer marketing that has resulted in increased awareness, image, and visitation.
This year's winner is a video initiative that launched in the Fall 2019. The premise is to interview individuals or groups representing organizations, businesses and events in the community that are accomplishing Simply Grand acts, which are attractive to potential visitors and residents. Five questions are asked in five minutes or less to generate attention and boost interest. 
This initiative has allowed them to use technology in an incredibly efficient way while delivering outstanding results. They now field calls from individuals wanting to be a part of it or with suggestions of what might make interesting interviews. This program was also used during COVID via Zoom as a way of informing about what is happening in the community. 
Heritage Award for a Front-line Tourism Employee
Al Michels
Scenic Theater, Lisbon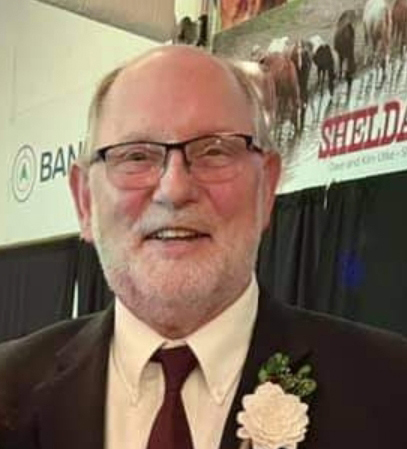 This award recognizes an individual who provides outstanding customer service to visitors daily. 
Al Michels has been the true face of not only Lisbon, but the state of North Dakota! He loves this state and town and wants everyone to know what we have here. He has a true passion to see once old treasures, restored and brought back to life. A prime example is the purchase and ownership of the theater in his community. The Nation's oldest continually ran theater celebrates its 111th year in 2022. 
Al couldn't stand by and watch it sit empty - so he and his wife brought it to life again! He has been a part of several other town committees over the years - all to help improve his community and to bring tourism to Lisbon and North Dakota.
Flint Firestarter Award for a Tourism Development Project 
Broadway Square
Downtown Fargo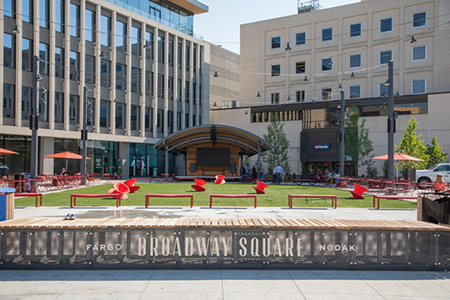 This award recognizes a new offering that has opened in a downtown district that has the potential to attract visitors and enhance the Main Street experience by offering improved amenities and spark future development in the core of a community.
It's North Dakota's version of Rockefeller Center and people comment on the magic of the space and the fun of the surrounding businesses. It has turned the corner of two city streets into one of the most photographable, visited spots. 
Nearly 350,000 unique visitors have spent an average dwell-time of 10 minutes reveling in all that it has to offer, in every season. This destination is a collaboration between the Fargo Park District, R.D. Offutt Company, and the Kilbourne Group. It serves as a central, vibrant, inclusive, and engaging downtown community space with something for everyone respectfully presenting a collection of innovative and authentically representative programming that amplifies a unique Fargo flavor and is driven by an ingrained placemaking philosophy. Since opening in 2021, free programming and events accounted for 259 days of activation. From the ice rink with skate rentals in the winter, to the turf and waterspouts in the summer, and so much in between, like live musical performances, movie screenings and events like the Red River Market or Downtown Street Fair.
Trailblazer Award for Tourism Innovation 
North Dakota Native Tourism Alliance
This award acknowledges the spirit of perseverance and creativity in developing unique North Dakota offerings and is given to an attraction, event, person, group, company, or organization that has been innovative in improving visitor experiences in North Dakota.
In the spring of 2016, representatives from the five tribes of North Dakota came together to establish the North Dakota Native Tourism Alliance (NDNTA), a non-profit organization committed to protecting, promoting, preserving, and educating the world about culture, history, and environment of their sovereign nations. The group is promoting cultural experiences offered by each tribe, including visits to museums, buffalo ranches, casinos, powwows, music festivals and historic sites.
Some of the highlights of the organization's activities over the past six years include: 
Increased awareness of North Dakota tribal tourism events and destinations  

Cooperative business model to support tourism experiences, marketing, and tourism enterprise development at a regional level

Tourism Product Development Work Plan in collaboration with the Advisory Committee and engaged the North Dakota Tourism Division to identify potential tour operator partners

Cultural tours at MHA Nation, Spirit Lake Nation, and Standing Rock Sioux Tribe

Awarded the First Nations Development Institute grants in the amount of $30,000 and $15,000
The Wade Westin Award for Marketing
Luke Shafer​
ND Country Fest, New Salem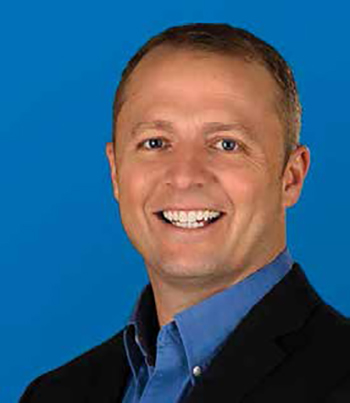 This award will be given to a stand-out marketing initiative. The honor may go to a marketing project, a specific campaign, a marketing team or cooperative project or a marketing guru who uses innovative ideas to attract more attention and thus visitors to North Dakota.
ND Country Fest is a country music and camping festival in New Salem that has been attended by tens of thousands over its short 5-year life span, excluding the 2020-covid season. In addition to the event, there is a 10 day/9 evening promotional tour - Your Town Tour & Concert Event that crisscrosses North Dakota every spring to promote the festival. Over 3,500 miles logged, stopping at over 350 business in every town they pass through and concluding each evening with a full live concert featuring national and regional artists.
The ND Country Fest is the fastest-growing country music and camping festival in the country with 2021 attendees arriving from 31 states and 211 cities.
Legend Award for Travel & Tourism Industry Leadership 
Charley Johnson
Fargo-Moorhead CVB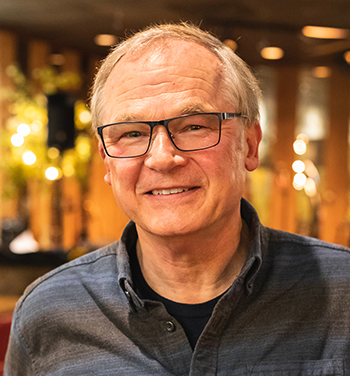 This award recognizes an individual who has demonstrated legendary leadership in the tourism industry statewide and beyond. This individual's long-term leadership in the areas of destination development must be proven by a significant impact in visitor spending and/or creating differentiated communities.
Charley Johnson's path toward his career as a tourism professional was not traditional by industry standards, but one would never know that when you meet him. The passion and dedication he displays for tourism and the state of North Dakota is just as prevalent as those who have been in the industry far longer. In fact, his prior career probably prepared him quite nicely for his current role as an authentic, ardent advocate for his community and state.
During his almost 10-year tenure, he has moved the needle by shining a public spotlight about the importance of tourism to the economy within the community and has also been a driver for important initiatives for the tourism world both locally and at the state level. Locally he has initiated the conversation about the need and benefits of a convention center. He often works with North Dakota Tourism at the state level to ensure one of our states most important economic drivers – tourism – is not forgotten during any legislative session.