Theodore Roosevelt National Park/Maah Daah Hey Trail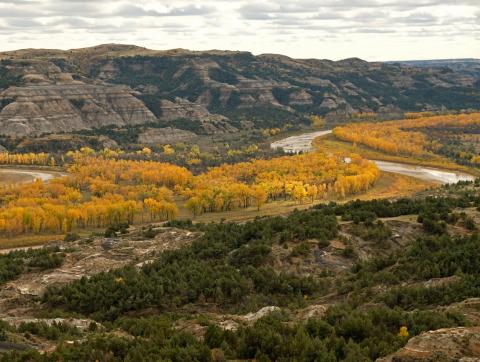 President Theodore Roosevelt famously said, "I never would have been President if it had not been for my experiences in North Dakota." And the state is proud to take the credit.
During his administration, President Theodore Roosevelt founded the United States Forest Service, signed the National Monuments Act and established the first federal game preserve. His conservation efforts led to the founding of the National Park Service, established to preserve and protect unspoiled places like his beloved North Dakota Badlands. Roosevelt came to the North Dakota Badlands in 1883 to hunt, and stayed to establish the Maltese, Cross and Elkhorn open‐range cattle ranches – now part of the stunning 70,000‐acre Theodore Roosevelt National Park.
The two units of Theodore Roosevelt National Park offer majestic Badlands scenery, abundant wildlife and all kinds of adventures, including hiking, biking or horseback riding. The park has two units, the North Unit and the South Unit, both distinctly different.
The South Unit is on I‐94 in western North Dakota. Here the Badlands have been shaped by millions of years of wind, rain, erosion, fire and the meandering Little Missouri River. The area was described in 1864 by Gen. Alfred Sully as "hell with the fires out." The main access to the South Unit is through the historic town of Medora.
The North Unit, accessible from U.S. Highway 85 south of Watford City, has taller buttes and is heavily forested in places. The beauty and allure of the North Unit draws visitors year‐round for sweeping vistas of this designated wilderness.
Visitors can explore the Badlands just as Roosevelt did – on horseback, or by RV, bike or foot. The park features more than 80 miles of marked horse trails, plus countless unmarked trails carved by bison, wild horses, long‐horned cattle, elk and deer.
In addition to the park trails, the Maah Daah Hey Trail offers 144 miles of non‐motorized single track through the Badlands. Recognized as one of the top mountain biking trails in the U.S., the trail offers campsites every 20 miles that include camping spurs, potable water, hitching rails, picnic tables, fire rings and accessible toilets.
Theodore Roosevelt National Park and the Maah Daah Hey trail are both open year‐round, with guided trail rides and primitive camping available inside and outside the park.