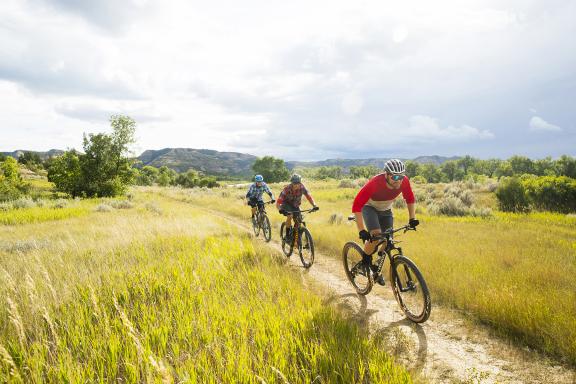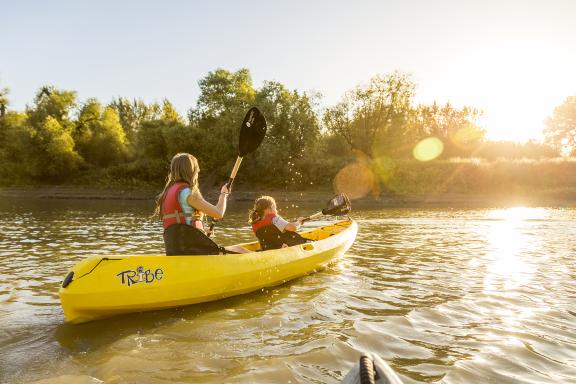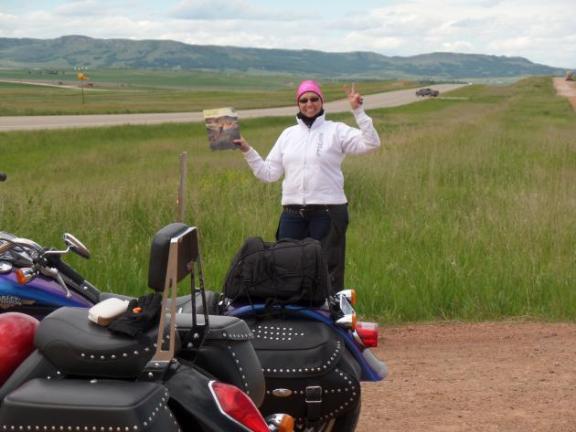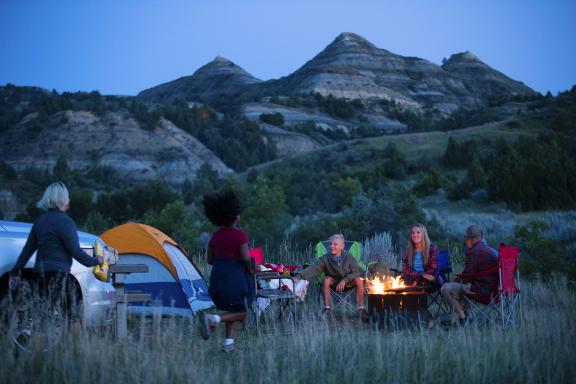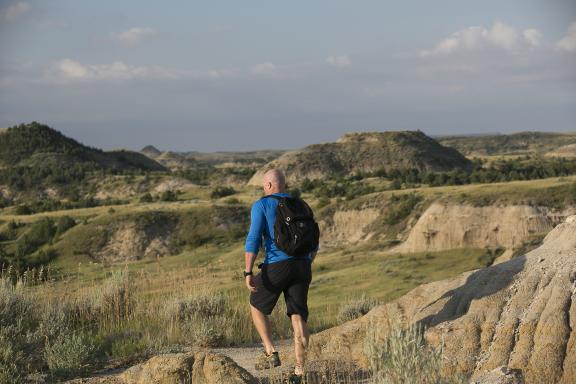 The outdoors is calling. How will you answer?
Mountain Biking and Hiking
North Dakota has many opportunities in state parks, forests and water areas for outdoor exploration. Lesser-known trails abound throughout the state, assuring an enjoyable hike or ride no matter where you are in North Dakota.
On par with the mountain biking trails of Moab, Utah, the Maah Daah Hey Trail was designated by the IMBA as an "Epic Ride" in 2001. Crossing the Badlands, 144 miles of trail connect the north and south units of Theodore Roosevelt National Park and extend south of Medora almost to Amidon. It also serves as a hiking and horseback riding trail. Maah Daah Hey is a Mandan name that means "grandfatherly" or "been here a long time," and honors this Native American tribe that has lived in western North Dakota for more than 500 years.
North Dakota holds its own with nationally recognized trails. Lake Sakakawea State Park is a trailhead for the North Country National Scenic Trail, a hiking trail that will eventually stretch 4,000 miles and link seven states: North Dakota, Minnesota, Wisconsin, Michigan, Ohio, Pennsylvania and New York. About 1,600 miles of the trail have been marked so far. 
Whether you are looking to hike in the rustic back-country or for a full-service marina with guide services, state parks along Lake Sakakawea fit the bill. Cross Ranch State Park (near Washburn) has an extensive trail system and you can explore its dedicated nature preserve with mixed grass prairie, river bottom forests and woody draws. 
Water Recreation
Lake Sakakawea State Park is the place to be if you are looking to play in the water. The park's full-service marina on Lake Sakakawea offers everything from boat rentals to fishing guide services and hosts numerous fishing derbies throughout the summer. The third-largest man-made lake in the United States, Lake Sakakawea, is an angler's dream.
Nestled in the scenic Turtle Mountains on the shores of Lake Metigoshe in north-central North Dakota, Lake Metigoshe State Park is one of the most popular year-round vacation spots in North Dakota. Today, the lake is noted for its northern pike, walleye and perch. The rolling hills, aspen forests and small lakes attract nature lovers to the area. And fall offers an incredible view of leaves changing colors.
Canoeing & Kayaking
North Dakota offers diverse canoeing waters rich in scenery and deep in fun. The diversified scenery along the water varies from agricultural plains to thickly wooded slopes or gentle river bluffs. The state's rivers offer a challenge to beginners and experienced paddlers alike. Rivers in North Dakota that are considered best for canoeing: Sheyenne River, Little Missouri River, Pembina River, Red River and Mouse River.
Golfing
North Dakota has more than 100 golf courses.
King's Walk in Grand Forks is an Arnold Palmer design laid out in a natural prairie setting that recreates the atmosphere found at the great links courses of Scotland and Ireland.
Located near Williston, Links of North Dakota was designed by Steven Kay. It has received several "best of" accolades since its opening, including Golfweek's list of America's Best Modern Courses.
Bismarck's Hawktree Golf Club is an 18-hole course designed by James Engh that takes advantage of natural water and rolling hills. It, too, has received honors like Golfweek's list of America's Best Modern Courses.
Bully Pulpit Golf Course is a new 18-hole golf course three miles south of Medora. Set in the dramatic North Dakota Badlands landscape, Bully Pulpit was named by Golf Magazine as one of the 10-best new public courses in America to open in 2004. The course features five different tees, ranging in length from a comfortable 5,000 total yards from the forward tees to a challenging 7,300 yards at the tips. 
For a unique twist, golfers can follow the Lewis & Clark Golf Trail through North Dakota. The golf trail retraces the route of the 19th century explorers along the Missouri River, identifying 20 golf courses near the trail.
Birding
Where do birds go on vacation? North Dakota! With more than 60 wildlife refuges - more than any other state - North Dakota is the premier vacation place for birds and birders. Prairie potholes, birding festivals and guided tours attract feathers and friends alike. Millions of birds travel through North Dakota along the Central Flyways. North Dakota is a birders' hot spot, according to WildBird. Two rare birds nest here: Baird's Sparrow and Sprague's Pipit. Kidder County is on the list of Top 10 Hot Spots.
J. Clark Salyer National Wildlife Refuge is located north of Towner, and is the largest refuge in North Dakota and listed on the Top 50 U. S./Canadian birding hot spots, according to WildBird.
Arrowwood National Wildlife Refuge is located north of Jamestown and attracts two rare birds – Baird's Sparrow and Sprague's Pipit. Chase Lake National Wildlife Refuge (near Medina) has the largest breeding colony of white pelicans in North America. Lake Ilo National Wildlife Refuge near Dunn Center shows 11,000 years of Plains Indian life in western North Dakota. Lostwood National Wildlife Refuge, Kenmare, has one of the highest populations of sharp-tailed grouse in the U.S. Long Lake National Wildlife Refuge in Steele County (southeast of Bismarck) was named one of America's 500 top Globally Important Bird Areas by the American Bird Conservancy. Sandhill cranes, whooping cranes, ducks, geese, snow buntings, snowy owls and other raptors spend time here.
White Horse Hill National Game Preserve is south of Devils Lake on the Spirit Lake Reservation. A remarkable "transition" refuge, Sullys Hill is home to large animals like bison and elk, as well as waterfowl, white-tailed deer, fox, raccoons, mink and songbirds. Here you'll see thousands of migratory birds.
Of the two national grasslands in the state, the Little Missouri National Grassland is the largest, covering much of western North Dakota and offering several scenic drives. South of Valley City, the Sheyenne National Grassland is an oasis for grouse, greater prairie chicken, tallgrass prairie, rare prairie orchids and unique butterflies.