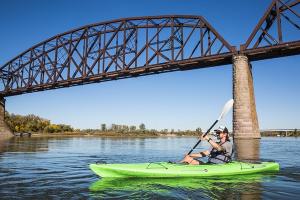 Missouri River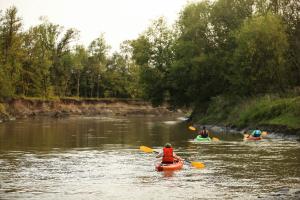 Sheyenne River
The Sheyenne River from Northern Lake Ashtabula to the Sheyenne National Grasslands encompasses the 199 mile Sheyenne River Water Trail.  The gently flowing scenic river valley leads to camping, cabins and kayak rentals at Fort Ransom State Park.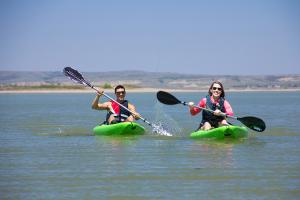 Lake Sakakawea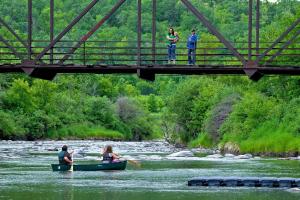 Pembina River Trail
The Pembina River twists and turns through the scenic Pembina Gorge. The Gorge is one of the only places in the state where kayakers can experience Class 1 rapids. The spring and early summer are the best time to paddle the area. Facilities and rentals are available at the Pembina Gorge State Recreation Area office.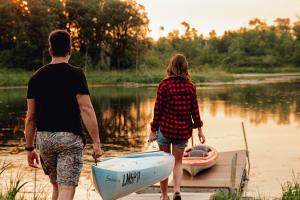 Lake Metigoshe State Park
Lake Metigoshe is North Dakota's lake in the middle of the woods. School Section Lake is a non-motorized lake within Lake Metigoshe State Park. A canoe/kayak trail starts and ends on School Section Lake. To complete the entire path, some portaging is required. Facilities, camping, cabins and rentals are available in the state park.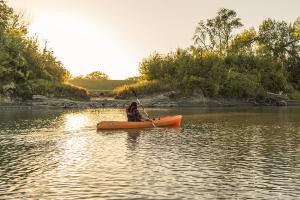 Red River - Grand Forks Area
The Boathouse on the Red makes Grand Forks an easy place to slip into the Red River and enjoy the Greenway right in the heart of north Dakota's third-largest city. Check out Ground Up Adventures at the Boathouse on the Red for rental information.
Red River - Fargo Area
Harmon Lake
Harmon Lake north of Mandan is one of the newer impoundment lakes in North Dakota, dating to 2009. The 145-acre lake is nice for families and day trips. Paddle On North Dakota is based at the lake's swimming beach so renting a kayak, paddleboard or canoe is a breeze. Check out the SUP Yoga classes in the summer.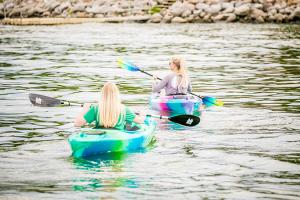 Devils Lake
Looking for a place to do some angling while paddling, Devils Lake is ideal for long-distance and angling kayakers. This lake has varied significantly in size throughout the years but is currently the largest natural body of water in North Dakota. Facilities are located at Grahams Island State Park, Eastbay Campground and Woodland Resort.