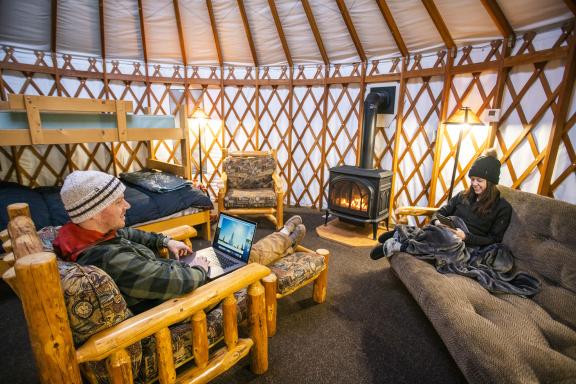 Top Cozy Getaways for the Escape You're Craving
North Dakota has a vast array of comfortable lodging, some suited for all seasons
Now more than ever, it's important to get your families into the great outdoors where lodging and adventure range from upscale boutique hotels to rustic cabins in the woods. Enjoy the hygge of snuggling under a warm blanket as you sip on hot cocoa and watch the flames dancing across the fireplace. Hygge is a quality of coziness and is inspired by both the Danish and Scandinavian heritage.
Here are several options to consider as you look for exciting, adventurous, upscale, or hygge getaways:
Upscale Lodging
Jasper Hotel, Fargo
Celebrating the heritage and spirit of a pioneer town. Convivial yet chic, comforting yet refined, Jasper Hotel Fargo combines a unique Plains heritage aesthetic with a vibe that treats every guest with gratitude.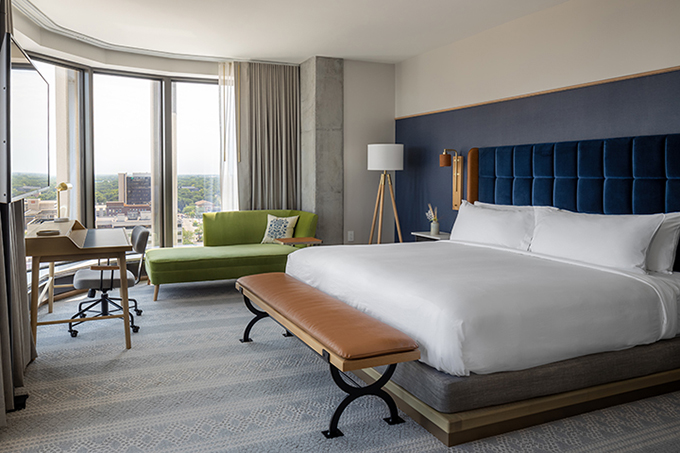 Hotel Donaldson, Fargo
Boutique hotel is a great stay after a night out in downtown Fargo. Start with shopping, add a meal and a drink afterward and complete the evening in one of the art-inspired rooms.
Coteau des Prairies Lodge, Havana
This upscale 13-bedroom lodge perched on a hill overlooking the surrounding prairies offers remarkable scenery and can accommodate you and a dozen or so friends – or family – looking for some time away from the every day grind. Special themed weekend retreats are often planned by the lodge.
Rough Riders Hotel, Medora
A popular stay in the summer is also warm and hospitable in the winter. Explore Theodore Roosevelt National Park by day, dine in and retire into upscale comfort at night.
Adventurous Outdoors
One Majestic Place, Mountain
Exclusive, new hand-crafted cabin (guest house) with full amenities. This cozy getaway accommodates 1-7 guests. Enjoy the indoor spa, fireplace, full kitchen, a beautiful view of the Red River Valley and nature trails on 80 acres.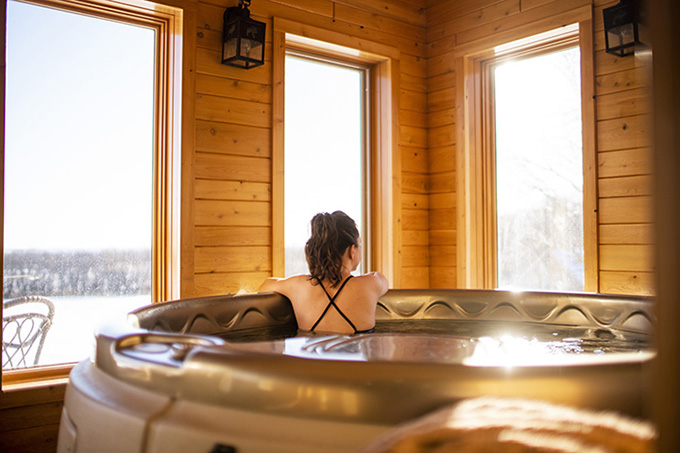 Woodland Resort, Devils Lake
Spend a day outdoors (in an ice house), dine in a Proz Lakeside at the Cove and spend the night indoors (cabin, lodge or motel room) at the full-service resort on the shores of Devils Lake.
Moose Creek Lodge, Langdon
In the heart of the Rendezvous Region, this comfortable lodge is the hub of activities. Spend the day birding, snowmobiling, skiing and ATV riding in the Pembina Gorge, then come back for a hot meal and story telling before turning in and doing it all again tomorrow.
Tobacco Garden Resort, North of Watford City
Billed as a little bit of heaven in the middle of nowhere, the resort is on a bay on Lake Sakakawea, far from the crowds but not from comfortable cabin accommodations and recreation.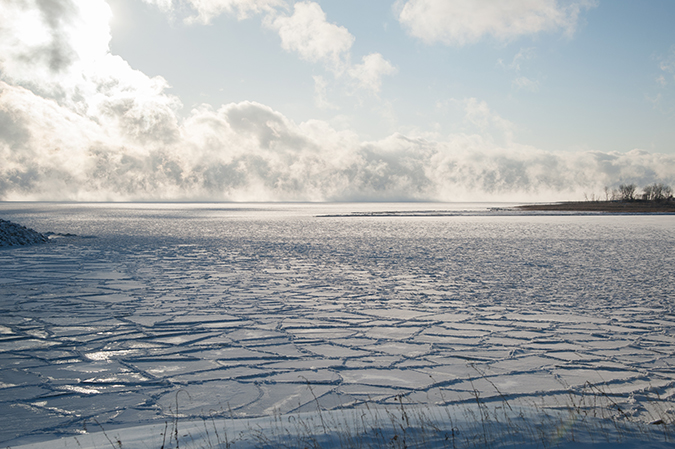 Fun with the Family
Pederson and Redetzke Yurts, Fort Ransom State Park, Fort Ransom
Surround yourself with nature and comforts of home. Watch wildlife as you hike, cross-country ski or snowshoe through the woods (rentals are available). Come back to the uniquely modern yurt, a modern twist on an ancient style of lodging within the park.
Cabins in the woods at Lake Metigoshe State Park, Bottineau
If it's a night in a cabin in the woods that excites you, it doesn't get much better than Slemmen, Loon or White Pelican lodges along the Canadian border. Spend a day cross-country skiing, hiking, snowmobiling or ice fishing in the park or downhill skiing at Bottineau Winter Park, then come back to the rustic cabin where it's just the family, a cozy fire and game or puzzle night.
Cabins and Yurts at Cross Ranch, Washburn
Take your pick of lodging and activities. Cross-country ski or hike through the woods on snowshoes rented from the park. As the sun sets, retire to the cabin or yurt where a warm fireplace, food, maybe a little music and games await.
Fun is the theme at Canad Inn, Grand Forks
Pick out your favorite theme and check in at Canad Inn. Theme rooms: Circus, Galaxy, Pirates, Mermaids, Princess, Under the Sea, Penguins, Dinos Safari, Wild Animal Safari and Rain Forest Safari. Splasher's of the Seven Seas is open to a limited number of guest due to distancing protocols. 
Click here for more cozy getaways in North Dakota, a true four-season playground.
To browse our lodging listings across the state, view Places to Stay.