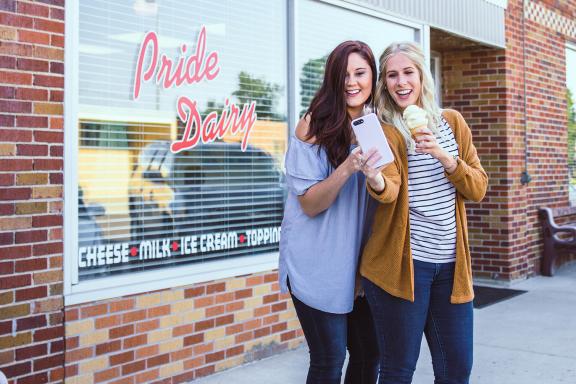 Bottineau
Bottineau is a four-season playground located at the foot of the Turtle Mountains near the International Peace Garden and the U.S.-Canadian border.
This vibrant small community is home to Pride Dairy, the last small town creamery in the state and they were named North Dakota's Best Ice Cream, as well as one of the top 50 ice cream parlors in the United States. Then try out some of the local dining options, including the Family Bakery and Restaurant for amazing doughnuts, Denny's Pizza for pizzas, burgers and more, or Marie's a fine dining experience, corner bistro, and local cocktail bar all under one roof - stop by for a morning scone, afternoon pick-me-up, or late-night Cosmo.
Nearby is the inspiring Mystical Horizons, the "Stonehenge of the Prairie" on the edge of the Turtle Mountain. And if unique statues are your thing, don't miss Tommy the Turtle riding a snowmobile. Bottineau also is a short ride from Lake Metigoshe, Bottineau Winter Park ski and snowboard area and the Turtle Mountain Scenic Byway. Those wanting to sneak in a round of golf can do so at the nine-hole Bottineau Country Club Golf Course.
Click here for more things to see and do in Bottineau