8 Things to see and do in Theodore Roosevelt National Park
Visitors to the three units of the stunning 70,000‐acre Theodore Roosevelt National Park find the dramatic scenery and recreational opportunities awe-inspiring.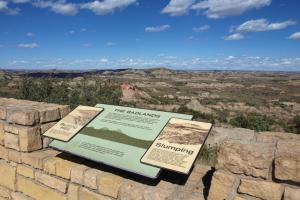 Painted Canyon Visitor Center
Visitors get their first real glimpse of the Badlands from the overlook at the Painted Canyon Visitor Center on Interstate 94, east of Medora. The canyon stretches as far as the eye can see into the rugged North Dakota Badlands.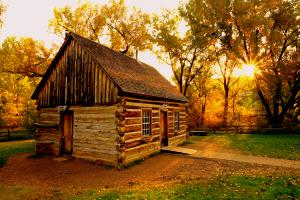 Theodore Roosevelt's Maltese Cross Cabin
At Theodore Roosevelt's urging, the Maltese Cross Ranch Cabin, now at the entrance of the park,was built during the winter of 1883-84. The Maltese Cross Cabin was originally located about seven miles south of Medora in the wooded bottomland of the Little Missouri River. 
Prairie Dog Town
While prairie dog "towns" can be found in many areas of the park, the first one encountered is along the road soon after entering the park near Skyline Vista. Prairie dogs communicate with each other by a number of sounds called "barks" or "yelps."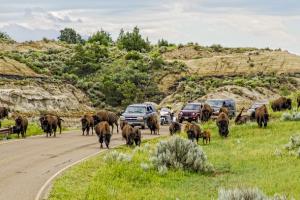 Scenic Loop Drive
A major feature of the South Unit is the paved, 36-mile Scenic Loop Drive with pullouts and interpretive signs that explain some of the park's historical and natural features. Wildlife is abundant along the route that weaves through much of the South Unit.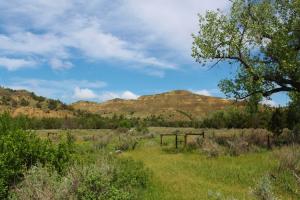 Elkhorn Ranch Site
In 1884, Theodore Roosevelt left for the Badlands following the deaths of his wife and mother on the same day. Looking for solitude, he started a second ranching site and named it the Elkhorn Ranch. The isolated site deep in the Badlands is not easy to find, but there is a map to its location. Other than signage, little remains at the location. 
Theodore Roosevelt National Park North Unit Scenic Byway
The 14-mile Theodore Roosevelt North Unit Scenic Byway provides the colorful North Dakota Badlands as a scenic backdrop with its sweeping vistas of one of the last remnants of wilderness in the Northern Great Plains. Theodore Roosevelt National Park memorializes the 26th President for his enduring contributions to the conservation of our natural resources. Visitors are provided a unique opportunity for wildlife viewing. In the park you will find open prairie, hardwood draws, bison, other wildlife, and the Little Missouri River.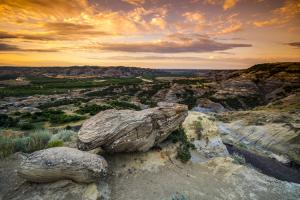 Oxbow Overlook
The final overlook along the scenic byway offers a sweeping panoramic view of the Badlands and of an oxbow in the Little Missouri River as is carves a channel through the tree-lined river valley.

Watford City, ND
United States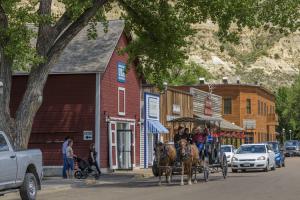 Medora
The small Badlands town of Medora is the gateway to the South Unit of Theodore Roosevelt National Park. But it is more than that; an Old West cowtown with horseback rides, modern museums, the state-of-the-art Burning Hills Amphitheatre, luxury lodging and primitive camping.
401 6th St
Medora, ND 58645
United States