Why Your Family Vacation Will Be Legendary in North Dakota
More families are finding unexpected fun on a road trip vacation in North Dakota
There's nothing quite like a road trip for family bonding time — snapping pictures by quirky roadside attractions and seeking new adventures together. North Dakota native and actor Josh Duhamel would say there's no place quite like North Dakota for your family trip this year. "North Dakota is an unforgettable experience. It isn't crowded, exploited or full of gimmicks," says Josh, who enjoys visiting his home state with his son, Axl. "I love that he's learning a little bit about what I knew growing up — getting him into some outdoor things that he doesn't necessarily get in a huge city." Here are a few ideas to get started on a great family summer road trip vacation.
A NATIONAL PARK AND THE OLD WEST
One of the most popular North Dakota vacations is the combination of Theodore Roosevelt National Park and the Old West town of Medora. The park itself has three units: two large units (North Unit, Watford City and South Unit, Medora) and a small, third unit that was the site of Theodore Roosevelt's Elkhorn Ranch during his time in North Dakota. Watch for wildlife like bison, bighorn sheep, elk and wild horses.
The historic town of Medora is a family favorite. During the day, visitors enjoy horseback trail rides, the nationally-rated Bully Pulpit Golf Course, bicycle rentals, a giant inflatable water slide and the 26-room Chateau de Morès – a "hunting lodge" of the town's French nobleman founder. When evening comes, it's time for the Pitchfork Steak Fondue and the acclaimed Medora Musical variety show under the stars, nightly throughout the summer. 
Near the North Unit, visit Watford City. Here you'll find new hotels and excellent dining like Stonehome Brewing Company or Outlaws Bar and Grill. Learn more of the region's history at the Long X Trading Post Visitor Center.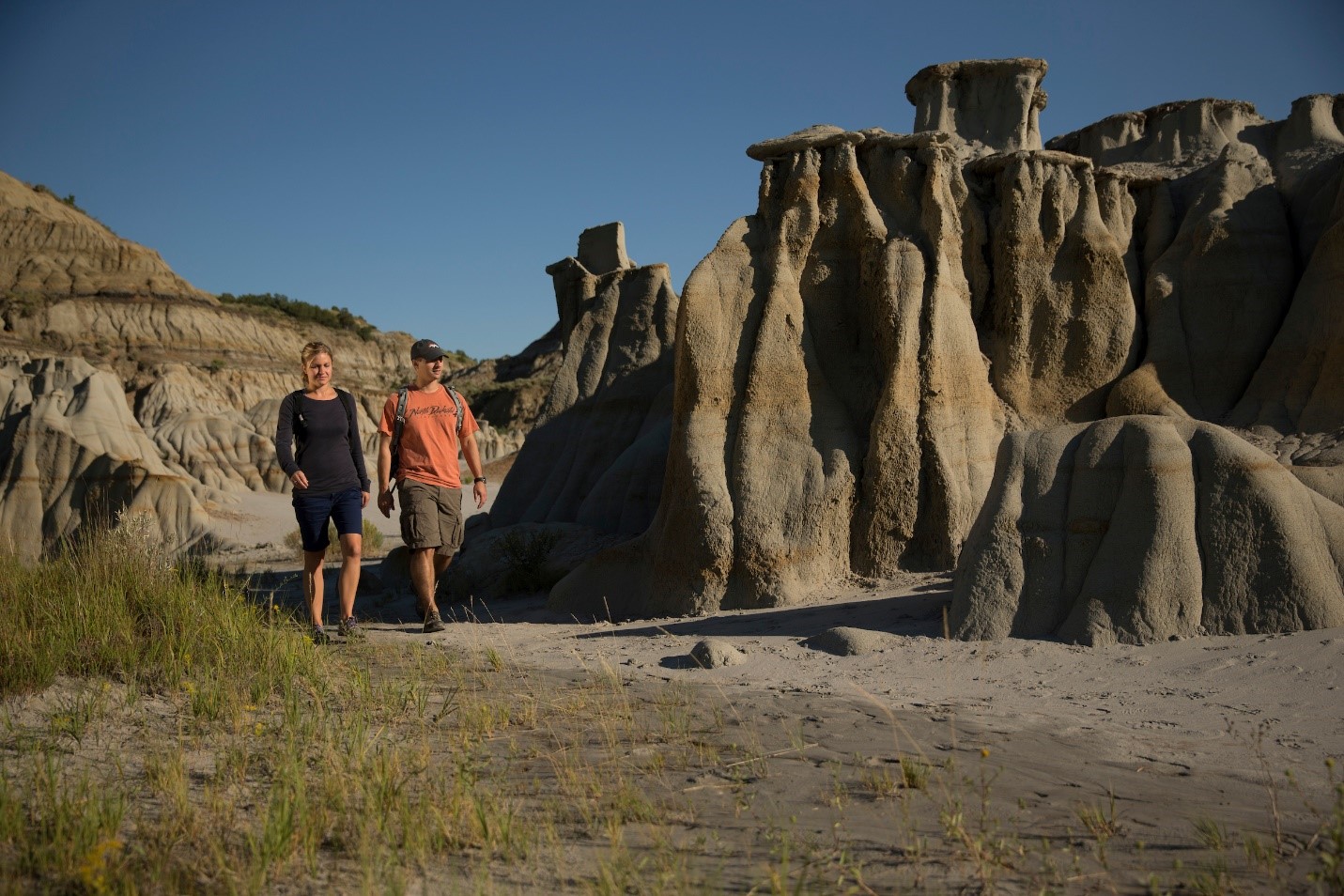 Visitors enjoy scenic overlooks and great views of wildlife. 
AMERICA'S PASTIME
Summer means baseball. The Fargo-Moorhead RedHawks are an independent professional minor league team, while the Bismarck Larks, Badlands Big Sticks and Souris Valley Sabre Dogs are summer wood-bat teams for some of America's elite college players. Gameday for the RedHawks or the Larks brings fans to enjoy not only baseball, but delicious food from the grill and family entertainment between innings. 
Fans enjoy a game of Fargo-Moorhead RedHawks baseball. 
EXOTIC CREATURES: RHINOS TO DINOS
North Dakota has several great accredited zoos with species not only from North America, but also from around the world. Chahinkapa Zoo in Wahpeton features animals like endangered southern white rhinoceroses and an orangutan, while Roosevelt Park Zoo in Minot has giraffes, zebras, penguins, lions and more. We have prehistoric creatures, too. Millions of years ago, North Dakota was home to triceratops and T-rex. See dinosaur bones on display at the North Dakota Heritage Center and State Museum in Bismarck or the Badlands Dinosaur Museum in Dickinson.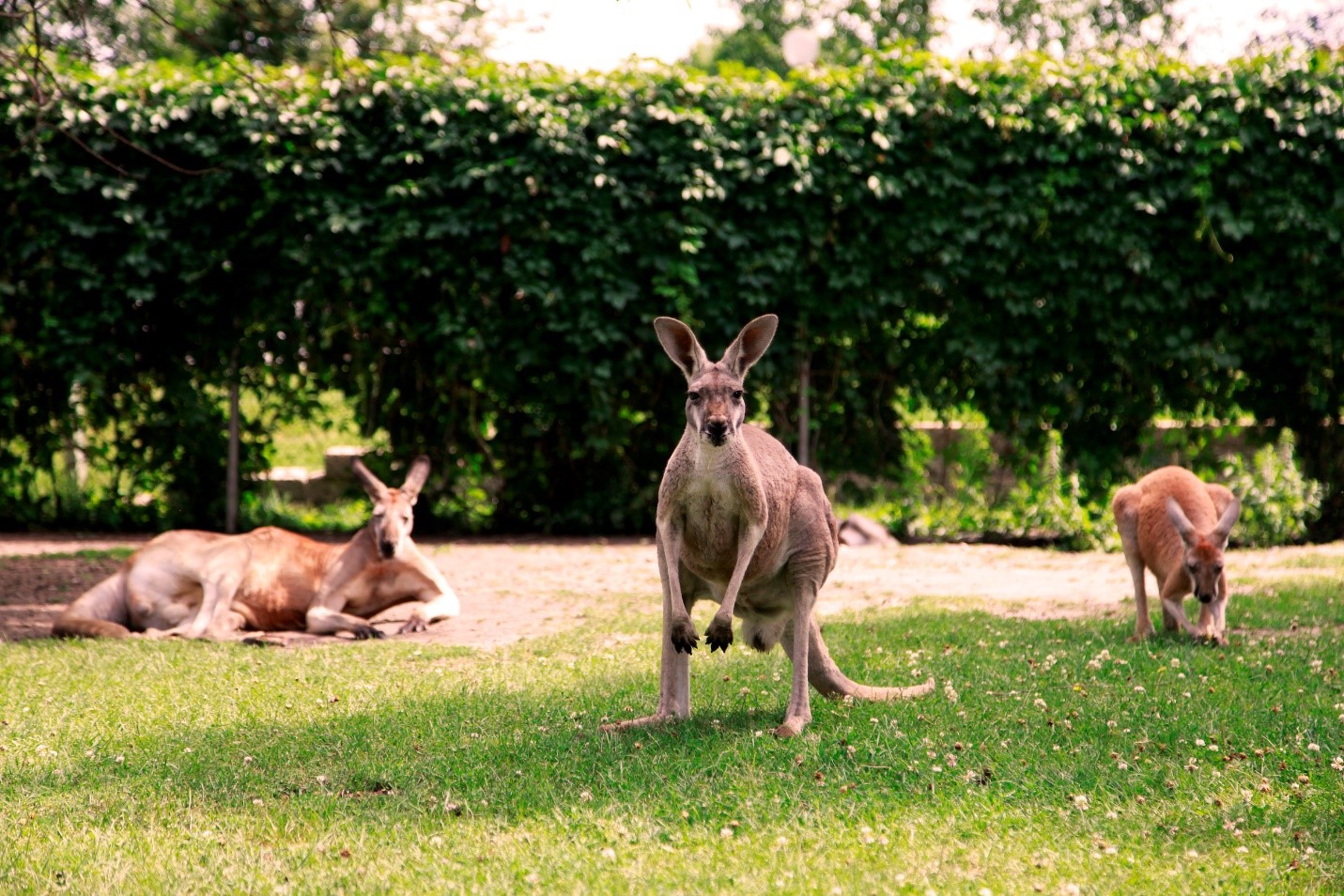 North Dakota zoos offer opportunities to see animal species from around the world. 
The North Dakota Heritage Center and State Museum's galleries showcase prehistoric life from the region, as well as Native American culture and the history of settlement on the prairie.