Midland Continental Depot Transportation Museum Featuring Peggy Lee
Get In Contact
Midland Continental Depot Transportation Museum Featuring Peggy Lee ,
401 Railway Street,
Copy Address
| Address copied to clipboard
The Midland Continental Depot Transportation Museum featuring Peggy Lee is a world-class museum showcasing two treasures in one: the Midland Continental Railroad, and the high-school home of music legend and North Dakota native, Peggy Lee. Completed in 2012, this professionally interpreted museum is sure to educate, inspire, and impress.
The Midland Continental was a short line railroad that operated between 1912 and 1970. Originally intended to be a north-south transcontinental line linking grain markets from Winnipeg, Manitoba to Galveston, Texas, all that was ultimately constructed was 77 miles of track between Wimbledon and Edgeley, ND. The main floor of the building served as the depot, and this floor showcases the railroad's history. Take a step back in time to explore what a working railroad depot was like, complete with a waiting room, ladies waiting room, depot agent's room, and a freight room.
Peggy Lee (1920-2002) was an American jazz, and popular music singer, songwriter, and actress who lived and worked in this very depot from 1934 to 1937. In 1934, Marvin Egstrom became the depot agent and moved in with his family. His daughter, Norma Deloris Egstrom, better known as Peggy Lee, helped him run it. During Peggy's high school years, the community of Wimbledon was instrumental in helping her start her musical career, and she graduated from Wimbledon High School in 1937. The depot agent's living quarters are depicted on the second floor of the building, and the large living room upstairs is dedicated entirely to Peggy Lee and the history of her life. View Peggy's dresses, see her photos and memorabilia, and take a listen to Peggy's music.
Take a trip to Wimbledon for an educational, interactive, and entertaining experience that the whole family will enjoy! The Midland Continental Depot Transportation Museum featuring Peggy Lee is on the National Register of Historic Places and is ADA compatible.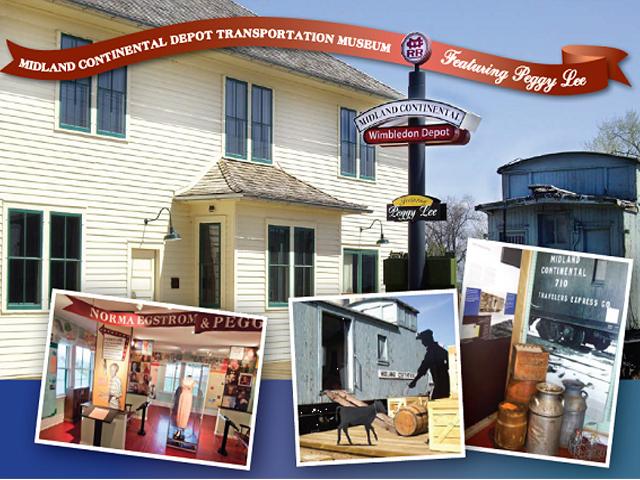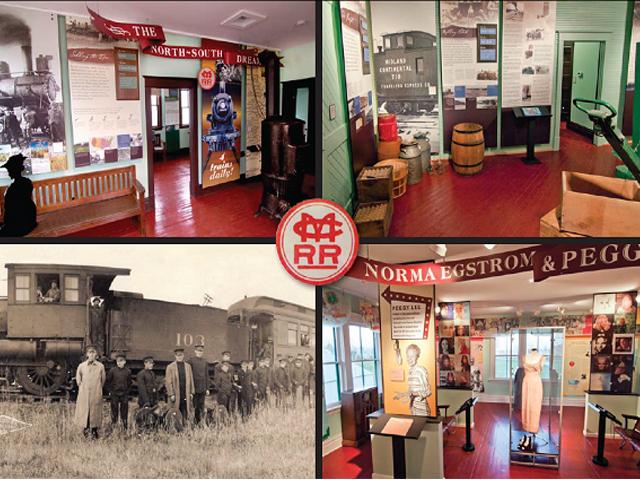 All Features
General Information

Free Admission,
Family-Friendly
Availability

By Appointment Only,
Open Year 'Round
47.16899, -98.459673
Midland Continental Depot Transportation Museum Featuring Peggy Lee