Jack Hoeven Wee Links
Get In Contact
Jack Hoeven Wee Links ,
720 16th St SW,
Copy Address
| Address copied to clipboard
In 2003, several passionate community members dreamed about building a kid's golf course. As a result, the organization established, and currently manages the Jack Hoeven Wee Links Golf Course providing a 9 hole real golf course for kids in the heart of Minot.
The course required a redesign as a result of the Mouse River Enhanced Flood Protection Project and was closed for the 2019 and 2020 seasons. The flood risk reduction project impacted three of the nine holes on the course requiring a rebuild of those through project funds. With golf course design/construction experts on hand to complete the reconstruction as a part of the project, the Minot Junior Golf Association contracted these golf course professionals to complete additional upgrades to the course including hole redesign, landscaping, and hazard implementation increasing the desirability of the course. Jack Hoeven Wee Links re-opened in May 2021.
Jack Hoeven Wee Links grew out of the desire to provide children with affordable activities to build physical, social and community skills. In order to keep the activity accessible to all juniors and families, course fees are only $1.00 for children 14 & under and $5.00 for everyone 15 and older. Adults may play the course as long as they are accompanied by a child 14 or younger. Youth clubs are also available to rent for $1.00.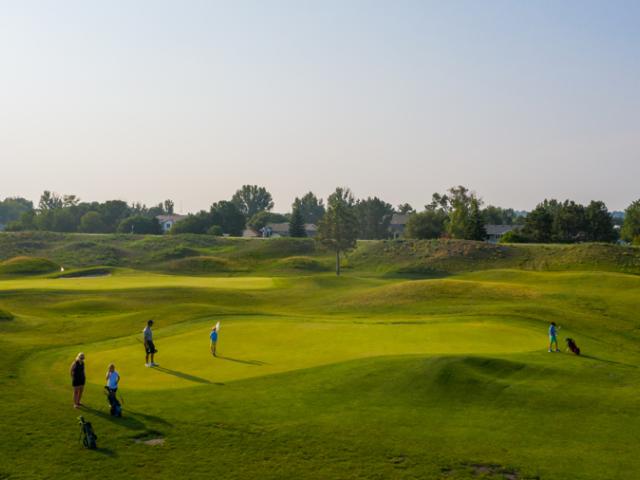 All Features
Activities

Equipment Available for Rent