Custer Trail Auto Tour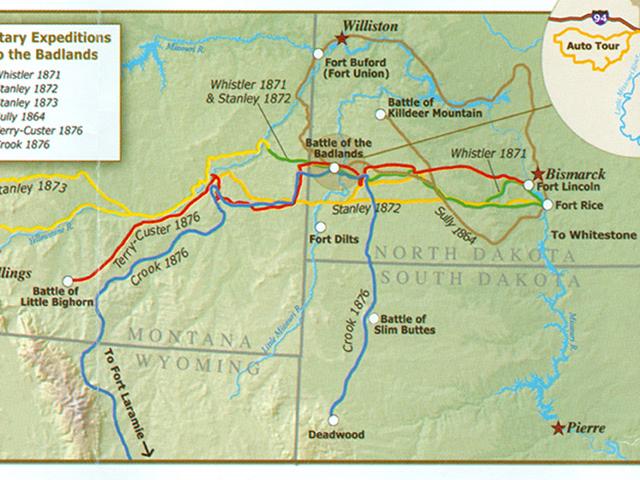 An auto tour through the Little Missouri National Grasslands takes visitors to sites and areas seen by five different military expeditions, including Custer and the 7th Cavalry's journey to the Little Bighorn. One section is dedicated to Custer's trail, while another follows General Sully's Battle of the Badlands Trail.
The red loop (east) is very scenic, starting on the plains and finishing at Bully Pulpit Golf Course just south of Medora. Easy Hill overlook and campsite are on the plains and gives you good perspective on how the travel was for them up to this point. Gravel/scoria roads are pretty well marked. The sites have good information boards, too. Initial Rock is well preserved. The western side of this same loop brings you up West River Road to Bully Pulpit, Custer's Camp and Medora.
The west loop (yellow) is a little trickier. Snow Camp is on private property so not very accessible. Sully's Waterhole is in an area where gas can gather and a bit dangerous - so stay by the signs. Battle of the Badlands is a Sully spot, not Custer. The site has artwork from that period that shows the buttes actually as they still are. Click here for the auto tour sites.