2019 Governor's Travel and Tourism Award Winners Announced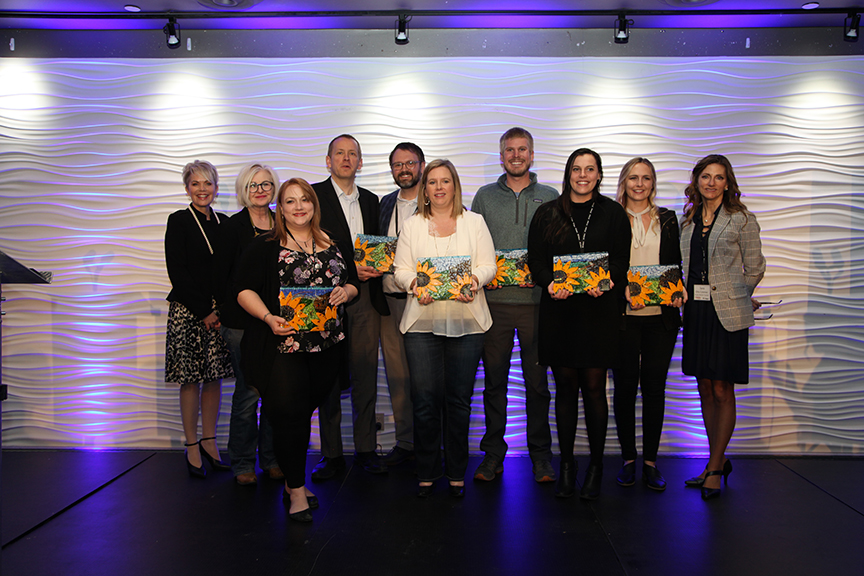 North Dakota Commerce Commissioner Michelle Kommer, Tourism Director Sara Otte Coleman and Destination Marketing Association of North Dakota (DMAND) president Searle Swedlund presented six Governor's Travel and Tourism Awards Wednesday at the conclusion on the 2019 Travel Industry Conference in Minot. The awards given annually recognize the passion and dedication of North Dakotans who have contributed to the growth of travel and tourism in North Dakota.
"As the state's third-largest industry, we know that travel and tourism benefit the entire state of North Dakota with visitor spending exceeding 3 billion dollars and helping to grow our state's economy," Kommer said. "The 2,900 businesses that make up the travel and tourism sector in North Dakota help differentiate our state and make trips to North Dakota memorable."
"This year's winners have all demonstrated a commitment to showcasing the best of North Dakota," Otte Coleman said. "Their passion for telling our stories, engaging our residents and visitors and empowering our North Dakota hosts is exemplary." 
This year's award winners:
Heritage Award for a Front-line Tourism Employee
Lorena Starkey
Hyatt House Minot
Excellence in hospitality is often defined by the heart of North Dakota's hotel staff. What separates mediocrity from excellence is a true culture designed around building great experiences for guests. Lorena Starkey has led the Hyatt House Minot team for 6 years during which she has built a reputation as a cheerleader for Minot.
Starkey developed North Dakota's first mobile concierge service, ensuring guests have easy access to staff 24/7. Her guests love to hear from the general manager and know that their stay in Minot will come with curated lists of places to visit and experience.
Starkey's hospitality extends beyond guests at Hyatt House Minot. She has a heart for her staff and wants to truly grow leaders who love to be ambassadors for North Dakota and Minot.
Starkey can be found working the front desk, flipping omelets, inspecting or cleaning rooms and connecting with her team daily.
Telegraph Award for Marketing Technology
Walleye Wars
Devils Lake Tourism
The concept of Walleye Wars started at a networking conference and evolved into a fishing challenge between Devils Lake Tourism and Lake of the Woods Tourism (Minnesota), a state-to-state, lake-to-lake, head-to-head competition. The inaugural Walleye Wars took place via Facebook on January 3, 2019.
Both parties went live on their own feeds from the St. Paul Ice Fishing Show, which is the nation's largest ice fishing show. Within a week, the Associated Press had picked up the story and soon the event had reached more than 8 million people from Vancouver to Washington DC.
The exposure was significant with destinations counting 240,000 video views, an estimated reach of 500,000 on Facebook and an estimated reach of 16 million through two Associated Press stories.
It was a true example of thinking outside the box and not necessarily working against your competitor but working together to promote two of the greatest fishing destinations in the Midwest.
Sakakawea Award for a Behind the Scenes Tourism Employee
Dannielle Riley
Fargo-Moorhead Convention and Visitors Bureau
Dannielle Riley not only exemplifies the qualities listed in the award description, she also transcends them. From ensuring that Travel Ambassadors in the visitor center are equipped and trained to serve daily visitors to initiating conversation and development of the "I AM FARGO-MOORHEAD" training program for all front-line employees, Riley's work often goes unnoticed by the outside world. 
Riley joined the CVB in 2015 as a Travel Ambassador in their visitor center. She was promoted to full-time status to manage the ambassador program and proposed the merger between her existing position with the visitor center manager position when that came open.
In her current role, Riley's steadfast resolve to ensure a North of Normal and Legendary visitor experience is unparalleled. Her efforts have championed the need for an all-encompassing free training program for all front-line employees in the hospitality and tourism industry in the community.
Trailblazer Award for Tourism Innovation
Searle Swedlund
Jamestown Tourism
Mary Faith Young was the town historian. Each spring, she would bus in fourth-graders from Jamestown schools and tell the stories that made their town special. When anyone wanted to know anything, they would call Mary.
By the time Young passed away in 2016, she had schooled hundreds of amateur historians who continue to tell these stories. However, travelers had a hard time accessing the tales until Jamestown's Talking Trails was created by Searle Swedlund and Jamestown Tourism.
The project created a cost-effective opportunity to showcase the "whole" story of Jamestown. The key to the project was the technology. Jamestown Tourism implemented a flexible and easy-to-use tool for visitors. Since the project launched in September 2016 with over 70 recordings and creative signage, more than 7,000 people have listened to a story.
The project goal was to connect visitors with the history of Jamestown, but the result was something more. The community got involved and engaged in the project in new ways. The best part of this project was connecting the community to its own stories, making story-tellers ambassadors for tourism.
Flint Firestarter Award for a Tourism Development Project
Makewell
Ashton Hauff
Makewell was formed in 2015 by Ashton Hauff after she realized the disconnection and isolation among many creative professionals in the community. The Makewell team was formed on the belief of community over competition; diversity of craft; encourage vulnerability; support local; and create magical moments.
Makewell is a now a community of 1,000-plus makers through the Midwest with the mission to equip makers and dreamers by sparking ideas and igniting action. At the very core, Makewell members believe they are better together. They learn, inspire and challenge one another. And when one succeeds, they all succeed together as a regional creative hub.
Makewell hosts several annual community events showcasing local restaurants and artists and, at times, highlighting the little-known specialties found deep in the community. The Makewell team are true Firestarters for North Dakota, showcasing world-class makers at their full value and supporting the local maker community both emotionally and financially to see their craft and businesses thrive where they call home.
Legend Award for Travel & Tourism Industry Leadership
Suzie Kenner
Devils Lake CVB
In addition to performing her job at an exemplary level for close to a decade, Suzie Kenner demonstrates an extraordinary commitment to her state and the community she serves.
In 2010, during the crucial road construction period throughout Devils Lake, Suzie acquired and maintained the position of Public Service Information Coordinator for the project. Suzie was instrumental in keeping the lines of communication open between community members and tourists traveling through Devils Lake.  
Kenner has always been willing to pitch in regardless of the mission. In 2014, she worked with others to spearhead a Community Wellness Center/Convention Center Project vote. She sits on numerous boards and committees, including the Downtown Revitalization Committee and the Downtown Streetscape Project Committee in 2018, both giving way to their current Main Street project. Kenner has served as president of Destination Marketing Association of North Dakota and a member of the Travel Alliance Partnership. 
Kenner has grown Devils Lake CVB's Facebook following to 43,000 by providing innovative media ideas like media personalities and interactive activities (Walleye Wars). She also developed an award-winning visitor guide in 2017 to showcase Devils Lake as a must-see destination.