Summer fun on Devils Lake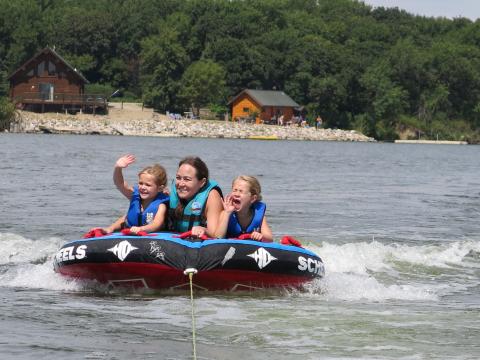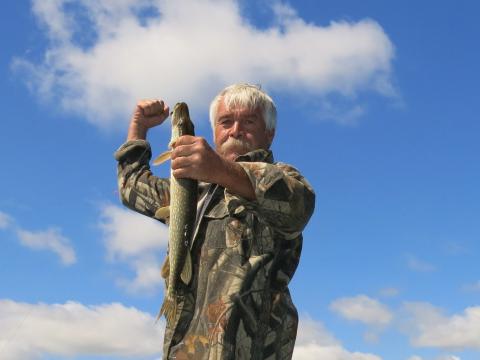 A weekend on Devils Lake was on our summer to-do list and it definitely earned a spot back on the list for next summer. There was tubing, skiing, fishing, campfires and smores, kayaking, fishing, ice cream treats, dinner on the deck and did I mention fishing?!
Devils Lake is this incredible natural lake covering more than 163,000 acres. One of the reasons it's incredible is for the fishing. Another is the mystique about this lake which has nearly quadrupled in size since the early 1990s. While I've been to the city of Devils Lake several times, I've never had a resort-stay on the lake before and we were overdue!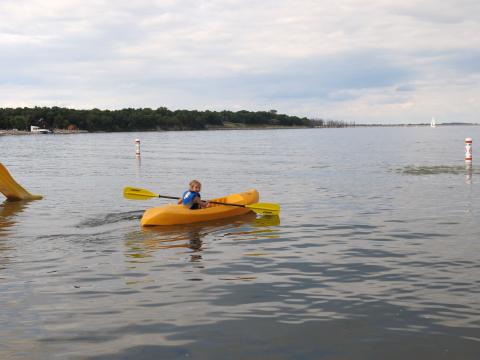 Early August, my family stayed at full-service Woodland Resort. We were joined by my parents and had great cabin accommodations. My daughters tried kayaking for the first time - courtesy of the kayaks at the resort - and now the oldest is trying to convince her dad to buy her one. There was easy access to boat launch at the resort and numerous places on the lake. We had sunny skies and calm winds during our stay and it was also the first time I tried tubing with both of my girls!
Even though our cabin was fully kitchen-equipped, we opted to eat at the Cove restaurant which has, in the words of my daughter, "the best noodles in the world." In fact, she ordered two servings.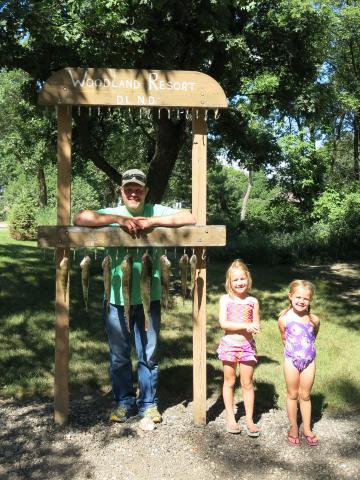 And then there was the fishing. That's the main reason we chose a weekend on Devils Lake. My husband fished Friday, Saturday and Sunday. He "filled out" on walleyes Friday and Saturday and the only reason he didn't on Sunday is because on that day, he was busy driving a boat and baiting the lines for his wife, mother-in-law and two daughters while also manning the net! We caught and kept walleyes, caught lots of northern (which aren't allowed in my husband's boat) and even a perch! My youngest daughter was content to mostly apply and re-apply sunscreen, eat sunflower seeds and peek at the fish in the live well. My oldest daughter caught most of the fish on our last day on the lake. She earned a dollar from her grandpa for the first fish and the two of them also had a competition for who caught the biggest. At one point she told us, "I just can't stop smiling."
That's what those weekend getaways and summer trips are all about - fun experiences, making memories and smiling. (The fish fry we had a week later was pretty awesome too!)