Wildlife Abounds on Des Lacs National Wildlife Refuge Scenic Backway
Looking for wildlife? Waterfowl, raptors, deer, moose and other species of wildlife can be seen.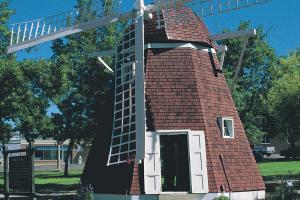 Historic Danish Mill
The Danish Mill was built in 1902 on a homestead 11 miles north of Kenmare by area farmers for grinding grains into flour. In 1959, the mill was moved into Kenmare and in 1965 the mill was moved to the center of the Park on the Square.
401 N Central Ave
Kenmare, ND 58746
United States
Des Lacs National Wildlife Refuge Visitor Center
The visitor center at Des Lacs National Wildlife Refuge headquarters features displays of local history and native wildlife. Photos by E.H. Gross and mounts of wildlife common to the area are some of the displays.
42010 520th St NW
Kenmare, ND 58746
United States