8 Great Fishing Spots in North Dakota
North Dakota is famous for its lakes and rivers. Walleye fishing here is among the best you'll find but there are other whoppers out there: northern pike, bass, perch and even catfish.
River systems offer some of the earliest walleye fishing opportunities across the Midwest for many anglers. Following are some of the best places throughout the state to drop a line.
Click here for top river walleye tips by Jason Mitchell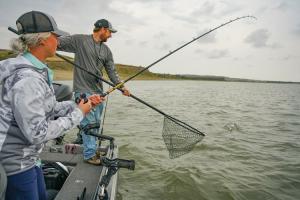 The Upper Missouri River
The Missouri River enters North Dakota from Montana just west of Williston. The free-flowing river offers a good setting for sauger in the spring and fall. And at the western reaches of the river in North Dakota, anglers can find one of the better spots in the country to snag a giant paddlefish in late spring.

Riverdale, ND 58565
United States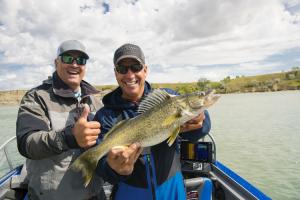 Lake Sakakawea
Named for the American Indian woman who helped guide Lewis & Clark 200 years ago, this lake is filled by the Missouri River and contained by the Garrison Dam. The huge lake covers more shoreline than the state of California and is home to walleye, northern pike and Chinook salmon, to name a few.
Logan and Mcintosh Counties
Logan and McIntosh Counties have over forty public fishing waters that are stocked and managed by North Dakota Game & Fish. Dry Lake & Marvin Miller Lake are considered excellent walleye fisheries.   
Lehr, ND 58460
United States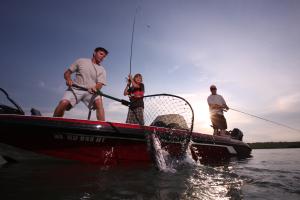 Lake Oahe
This lake stretches from Pierre, S.D. into extreme and rural south-central North Dakota. Anglers can find walleye and northern pike in this area, but there's also crappie, catfish and white bass swimming around.
92nd Street
Fort Yates, ND 58538
United States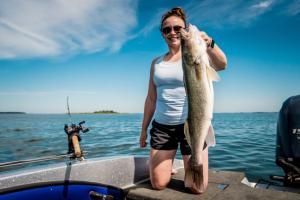 Devils Lake
The state's largest natural body of water has roughly quadrupled in size since 1993, and fish populations have kept up. You'll find northern pike, walleye, white bass and crappie and excellent ice fishing in the winter.
Fraine Rd.
Devils Lake, ND 58301
United States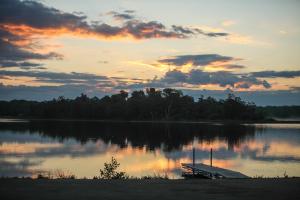 Lake Metigoshe
Tucked within the scenic Turtle Mountains and straddling the U.S.-Canadian border, Lake Metigoshe is one of the cleanest natural fresh-water lakes in North Dakota. Its many surrounding small bodies of water are perfect for an afternoon on the water chasing pike, walleye and bluegills.
123 18th Ave NE
Bottineau, ND 58318
United States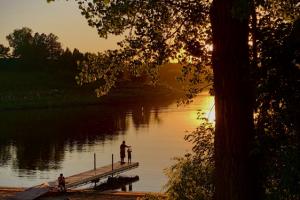 Jamestown Reservoir
This eastern North Dakota lake boasts seven boat launches and 2,492 acres. It also features a stocked fishing pond and great walleye, crappie and pike fishing. Take a break from casting and check out the two swimming beaches, three miles of hard-surfaced walking and biking trails and the world-class disc golf course.
8399 29th St SE
Jamestown, ND 58401
United States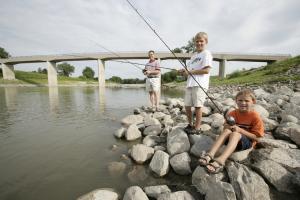 Red River of the North
Forming the boundary between Minnesota and North Dakota, the Red River serves as one long recreational playground for canoeing, boating and fishing opportunities year-round.
161st Ave. NE
Pembina, ND 58271
United States