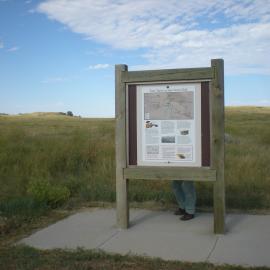 7 Places to Follow the Trail of Custer
Custer Trail Auto Tour follows route through the Badlands toward Montana. An auto tour through the Little Missouri National Grasslands takes visitors to sites and areas seen by five different military expeditions, including Custer and the 7th Cavalry's journey to the Little Bighorn. One section is dedicated to Custer's trail, while another follows General Sully's Battle of the Badlands Trail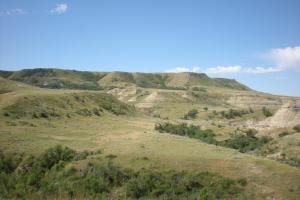 Easy Hill Overlook
In 1876, Custer scanned the horizon in search of Square Butte and other landmarks that would identify the route he followed with Stanley and the 1873 survey expedition. Climb the hill and enjoy a spectacular but daunting view of the Badlands.
43rd Street South W
Little Missouri National Grassland, ND 58645
United States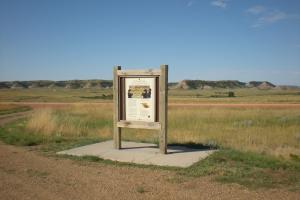 Easy Hill Camp
Travel in such rugged country with hundreds of troops on foot and on horseback, wagons filled with weapons, ammunition and supplies and herds of livestock was a logistical nightmare. Finding a good campsite was no easy task. In 1876, the military band entertained the troops from a nearby butte while they set up camp.
unnamed road
the Badlands, ND 58645
United States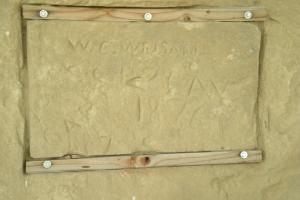 Initial Rock
Records Indicate than on May 28, 1876, 7th Cavalry privates Frank Neely and William C. Williams were assigned to rear guard duty. With time on their hands, they decided to carve their names into a sandstone bluff. To this day, their names remain in silent testimony to their passing.
Unnamed Road
Medora, ND 58645
United States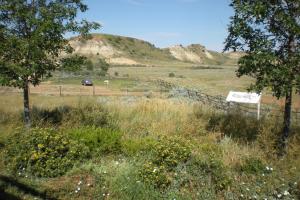 Custer's Camp (Bully Pulpit Golf Course)
This campsite's prime location near the Little Missouri River makes it likely that all five expeditions stopped here. This was the first time in days that trail-weary, hot and dusty men had enough time to bathe, wash clothes and even fish. In 1876, the expedition took a layover day here to enjoy the luxury.
Unnamed Road
Medora, ND 58645
United States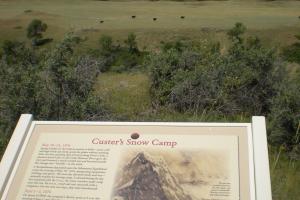 Custer's Snow Camp
Arctic cold and high winds can sweep across the North Plains without warning for much of the year. The 1876 expedition arrived at Snow Camp on May 31 and found itself snowed in for two nights. While officers were nestled in their wall tents with warming stoves, enlisted me huddled under ponchos around campfires or shivered in their wet three-man pup tents. NOTE: Site requires 2-mile cross-country hike.
Unnamed Road
Sentinel Butte, ND 58645
United States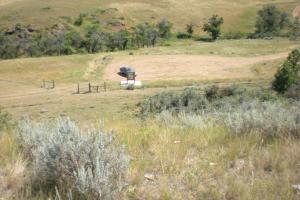 Sully's Waterhole
Water is a scarce commodity in the Badlands and there is little doubt Sully's troops were desperate to fill their canteens. Sioux marksmen targeted Sully's troops as they tried to get water from a muddy little waterhole. NOTE: Do not walk beyond the parking area due to the possible presence of hydrogen sulfide gas from a nearby oil production facility.
Unnamed road
Medora, ND 58645
United States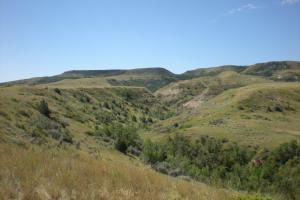 Battle of the Badlands
Gen. Alfred Sully is less well-known than Custer, but as leader of some of the first campaigns in the Sioux Wars, he holds a significant place in our nation's history. The 1864 Battle of the Badlands, a running battle between Sully's troops and the Sioux took place at Square Butte. This battle and the skirmish at Sully's Water Hole, the the only battles known to have occurred in the area of the Auto Tour.

the badlands, ND 58645
United States