4 Things to See on the Sheyenne River Valley National Scenic Byway
A 63-mile journey through the uniquely beautiful Sheyenne River Valley.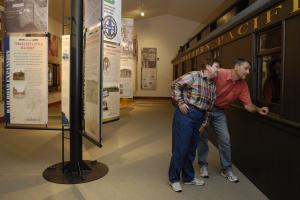 Rosebud Visitor Center
Center is also home to the Rosebud, an 1881 Northern Pacific Superintendent's Car. Displays on the railroad and area history, including the ND Agricultural Hall of Fame, are found within, along with information on the many attractions found along the byway.
520 Main St. W
Valley City, ND 58072
United States
Standing Rock State Historic Site
This marked site, called Inyan Bosendata by Sioux Indians who consider it sacred, is home to a rock, four feet tall and shaped like an inverted cone, which stands on a complex of prehistoric burial mounds dating from the Woodland Period (A.D. 0-1400).
221 2nd Ave
Kathryn, ND 58049
United States
Fort Ransom State Park
North Dakota's homesteading heritage is preserved at Fort Ransom State Park. The park, nestled in the picturesque and heavily-wooded Sheyenne River Valley, is managed as a natural and scenic area. A farmstead within the park provides the setting for annual Sodbuster Days  celebrations, with demonstrations and exhibits of early homesteading life. Snowmobiling and cross-country skiing are the major winter activities.
5981 Walt Hjelle Parkway
Fort Ransom, ND 58033
United States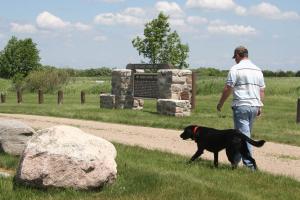 Fort Ransom State Historic Site
This interpretive site marks the location of a 200-man military post built in 1867. Although building locations and the dry moat, once eight feet deep, are still clearly discernible, nothing else remains of the original fort or its 12-foot sod and log stockade.
5981 Walt Hjelle Parkway
Fort Ransom, ND 58033
United States