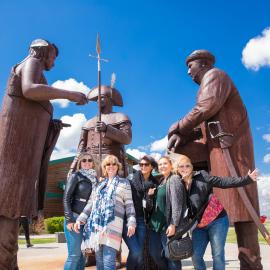 10 Things to see Along the Missouri River in North Dakota
Long before there were scenic byways, there was the Missouri River, the longest river in North America. The name 'Missouri' is derived from the Missouri tribe name, meaning 'people with wooden canoes'. The Missouri has the nickname "Big Muddy," because of the large amount of silt that it carries. For over 12,000 years, people have depended on the Missouri River and its tributaries as a source of sustenance and transportation.
Wreck of the steamboat Abner O'Neal
Hidden below the Missouri River lies the wreck of the steamboat Abner O'Neal. Hidden, that is, until the water levels dropped in 2020 and continue to drop. These aerial shots were taken in October 2020 after receiving notification from the boating public that the location was visible, and consent to access the wreck site was granted by an adjacent landowner. Learn the story of the Abner O'Neal, which sunk in 1892 while transporting 9,000 bushels of wheat from Washburn to the Mandan roller mill, at bit.ly/abner-oneal.
𝘗𝘭𝘦𝘢𝘴𝘦 𝘳𝘦𝘮𝘦𝘮𝘣𝘦𝘳 𝘵𝘩𝘢𝘵 𝘵𝘩𝘦 𝘈𝘣𝘯𝘦𝘳 𝘖'𝘕𝘦𝘢𝘭 𝘪𝘴 𝘸𝘪𝘵𝘩𝘪𝘯 𝘵𝘩𝘦 𝘣𝘰𝘶𝘯𝘥𝘢𝘳𝘪𝘦𝘴 𝘰𝘧 𝘴𝘵𝘢𝘵𝘦-𝘴𝘰𝘷𝘦𝘳𝘦𝘪𝘨𝘯 𝘭𝘢𝘯𝘥𝘴 𝘮𝘢𝘯𝘢𝘨𝘦𝘥 𝘣𝘺 𝘕𝘰𝘳𝘵𝘩 𝘋𝘢𝘬𝘰𝘵𝘢. 𝘚𝘦𝘷𝘦𝘳𝘢𝘭 𝘧𝘦𝘥𝘦𝘳𝘢𝘭 𝘢𝘯𝘥 𝘴𝘵𝘢𝘵𝘦 𝘳𝘦𝘨𝘶𝘭𝘢𝘵𝘪𝘰𝘯𝘴 𝘱𝘳𝘰𝘵𝘦𝘤𝘵 𝘵𝘩𝘦 𝘴𝘪𝘵𝘦 𝘢𝘯𝘥 𝘱𝘳𝘰𝘩𝘪𝘣𝘪𝘵 𝘵𝘩𝘦 𝘤𝘰𝘭𝘭𝘦𝘤𝘵𝘪𝘰𝘯 𝘰𝘧 𝘢𝘳𝘵𝘪𝘧𝘢𝘤𝘵𝘴 𝘧𝘳𝘰𝘮 𝘵𝘩𝘦 𝘭𝘰𝘤𝘢𝘵𝘪𝘰𝘯. 𝘉𝘰𝘢𝘵𝘦𝘳𝘴 𝘢𝘯𝘥 𝘰𝘵𝘩𝘦𝘳 𝘪𝘯𝘵𝘦𝘳𝘦𝘴𝘵𝘦𝘥 𝘱𝘢𝘳𝘵𝘪𝘦𝘴 𝘢𝘳𝘦 𝘦𝘯𝘤𝘰𝘶𝘳𝘢𝘨𝘦𝘥 𝘵𝘰 𝘢𝘷𝘰𝘪𝘥 𝘵𝘩𝘦 𝘸𝘳𝘦𝘤𝘬 𝘢𝘴 𝘢 𝘯𝘢𝘷𝘪𝘨𝘢𝘵𝘪𝘰𝘯𝘢𝘭 𝘰𝘣𝘴𝘵𝘢𝘤𝘭𝘦 𝘢𝘯𝘥 𝘳𝘦𝘮𝘪𝘯𝘥𝘦𝘥 𝘵𝘰 𝘵𝘢𝘬𝘦 𝘰𝘯𝘭𝘺 𝘱𝘪𝘤𝘵𝘶𝘳𝘦𝘴.