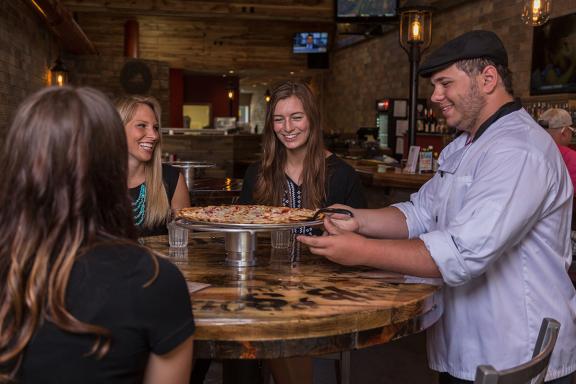 By the Slice
Always a family favorite
In the mood for a pizza? Check out these By the Slice stops for uniquely creative, homemade, wood-fired, and traditional pies.
Bismarck/Mandan
A & B Pizza
People's choice as Bismarck-Mandan's best pizza.
FireFlour Pizzeria
Fireflour in downtown Bismarck bakes authentic, Neapolitan-style pizza topped with gourmet ingredients like hand-pulled mozzarella in downtown Bismarck.
Dickinson
Phat Fish Brewing Co.
A family-friendly Brewery and Pizzeria with unique offerings created just for Dickinson. Everything is made in-house from the beer in your glass to the pizza on your plate.
Fargo
Blackbird Woodfire
Blackbird is passionate about feeding the prairie homemade, wood-fired pizzas crafted with flour milled from North Dakota wheat.
Grafton
Last Chance Bar & Grill
Serving up fresh pizzas and cold drinks.
Grand Forks
Rhombus Guys
Consistently voted "Best Pizza," Rhombus Guys tops its pies with an eclectic mix of ingredients ranging from pulled pork to tater tots.
Up North Pizza Pub
Enjoy one-of-a-kind pizzas, Italian dishes, microbrews and a family atmosphere.
Hettinger
T&B Brickhouse
Enjoy wood-fired pizza at this pizza parlor, then browse through Prairie Rose Floral & Gift for that special gift.
Jamestown
Jonny B's Brickhouse
Tame your appetite in a beautiful and welcoming atmosphere where they are cooking up fresh pizzas in a wood-fired oven, sandwiches and more using high-quality, freshly, sourced products.
Minot
Planet Pizza
Not your average pizza restaurant, they serve specialty pizzas and flavor-packed wings as well as a laser tag facility, an arcade game room and a bouncy house station where no matter your age, they have something for you.
Nite Train Pizza
Low-key, family-owned pizza joint in a strip mall since 1988 offering late hours & familiar staples.