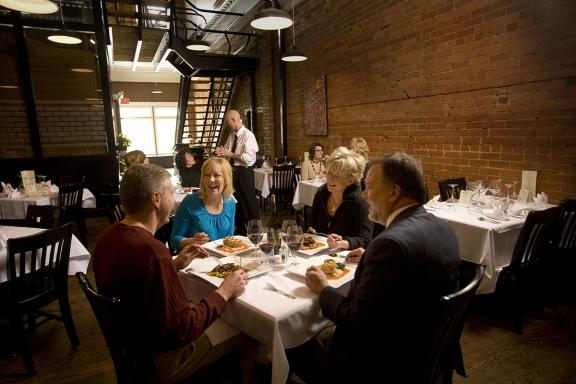 Fine Dining
Modern, fine-dining cuisine
Revel in the ultimate fine-dining experiences and indulge in tantalizing fare! These upscale eateries provide unique, seasonal-inspired menus and one-of-a-kind atmospheres.
Bismarck
Butterhorn
Located in the heart of downtown Butterhorn serves European-inspired New American plates, wine & cocktails. They believe food is love and the only way to showcase that is by using the highest level of ingredients, which are locally grown right here in the Midwest.
Peacock Alley
Peacock Alley prides itself on using only the highest quality cuts of beef, and is located in the historic Patterson Hotel building. Established in 1933 following the Prohibition Era, it has a rich history and retains its historic charm.
Pirogue Grille
Named after the boats Lewis and Clark used to traverse the Missouri River, diners are treated to feast on local specialties like walleye, bison and the famous rhubarbtini.
Dickinson
BrickHouse Grille
Serving fresh, simple and seasonal food in historic downtown Dickinson. Enjoy a libation in the upstairs lounge before sitting down to dinner.
Fargo
Mezzaluna
Locally sourced ingredients are the backbone of Mezzaluna's menu full of sophisticated food and swanky cocktails. Historical features make for eclectic ambiance.
Porter Creek Hardwood Grill
In the spirit of wine country, Porter Creek features a fresh contemporary American menu with California-Mediterranean influences.
Grafton
Frosty Fox Restaurant and Event Center
The Frosty Fox is the result of a community that pulled together to bring Grafton a world class restaurant and event space. Chef Pedro Diaz, who has appeared on a few different TV network cooking shows, was recently hired.
Grand Forks
Harry's Steakhouse
Harry's Steakhouse perfectly prepares steaks, seafood, chops, and of course, cocktails in downtown Grand Forks. 
Sky's
Sky's serves hand-cut steaks, appetizers, soups, salads, sandwiches and lavosh.  Chef's specialties created weekly. Cloud 9 Lounge on site.
Jamestown
Buffalo Grill
Located in the heart of downtown in a beautifully restored building, enjoy steaks, bison burgers, rotisserie chicken and fish.
Medora
Theodore's Dining Room
Situated in the historic Rough Riders Hotel, Theodore's Dining Room puts a modern spin on the traditional cuisine of the wild, wild West.
Minot
10 North Main
A warm ambience with local art and extensive wine list complement 10 North Main's fare, including locally raised bison, in downtown Minot.