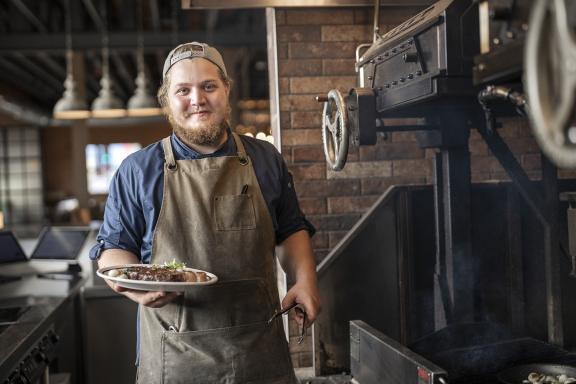 Cultural Cuisine
Multicultural culinary experiences await
Let your taste buds lead you on an adventure with authentic cultural cuisine served in restaurants with roots from around the globe.
Bismarck/Mandan
Eat Thai Cafe
Each dish is handcrafted with fresh ingredients and authentic Thai spices to give a real Thai experience.
Fried's Family Restaurant
Fried's (pronounced FREEDS) is truly a family affair, serving scratch-made pies, caramel rolls and comforting knoephla soup made fresh daily. Plates piled high with German-American fare.
Huckleberry House
Modern interpretation of Nordic dishes accompanied by creative cocktails served in sleek surroundings at this riverside restaurant, complete with two levels of both indoor and outdoor dining space, with classic design elements within an 1800's inspired boathouse.
Kroll's Diner
A North Dakota staple that's been serving German specialties like award-winning knoephla soup, fleischkuechle, and hand-scooped shakes and malts since 1972, this is the original Kroll's location. Skinny jeans not advised.
Dickinson
El Paricutin
El Paricutin serves unapologetically authentic Mexican food.
Fairfield
Four Corners Cafe & Catering
Four Corners serves up local Ukrainian heritage with homemade pyrohy/pierogie and borscht soup.
Fargo
701 eateries
Their Grandparents knew what they were doing-cooking from scratch, using local ingredients from their backyard and perfecting the recipes passed down from generations. They've tapped into the Scandinavian, German and Native American Grandparents from the area and memories growing up here to inspire both of the restaurants of 701 eateries: Prairie Kitchen and Camp Lonetree.  
Kringen Kafe
Promoting and preserving Nordic heritage through authentic eats every day – from lefse to rømmegrøt pie – guests are guaranteed an authentic taste of Norway.
Margie's Diner
It all began with a love of hot dish, and it has only grown from there to include Midwest delights such as breakfast lasagna, hangover hashbrowns, and tator tot hotdish.
Grafton
Azteca Mexican Grill
Hungry for a burrito, tostada, quesadilla or tacos? Look no further than Azteca Mexican restaurant.
LaCantina Tex-Mex Cuisine
Enjoy a fusion of Mexican and American cuisine from street tacos and nachos to steak and cheeseburgers.
Lee's Restaurant
A quaint Chinese restaurant to curb your cravings.
Roma's Italian Bistro
Family owned and operated restaurant serving up homemade Italian meals.
Grand Forks
Chino Latino
Find yourself craving uniquely grand dishes that are incredibly delicious? Chino Latino serves up the best Middle Eastern/Asian/Latin fusion fare to be found anywhere!
House of Punjab
House of Punjab serves authentic Northern Indian cuisine including chicken tandoori and tufani karahi.
King Pho
King Pho's Vietnamese dishes feature an assortment of soups, steamed buns, springs rolls, stir fry dishes and Banh mi.
Jamestown
Davoni's Italian Restaurant
Luxuriate in fresh and delicious Italian dishes in a cozy, quaint setting. Buon Appetito!
La Carreta Mexican Restaurant
Family owned and operated, you'll find all the Mexican-American staples that you can't get enough of.
Minot
Craven Cajun
Craven Cajun provides a great experience of Cajun flavors through authentic New Orleans cuisine.
Mi Mexico
Stop in and check out Mi Mexico, a family owned and operated business rated Minot's finest authentic Mexican cuisine.
Thai Hot
A premier sushi and authentic Thai food restaurant - come taste for yourself.
Oishii Ramen
This North Dakota treasure won't disappoint. Excellent and authentic ramen with clean, modern Japanese décor.
Napoleon
White Maid Restaurant and Bar
A restaurant/bar with lots of variety! From Knoefla soup and cheese buttons, ice cream and adult beverages; to burgers and steaks.
Wahpeton
El Toro Mexican Restaurant
Come on in for the delicious Mexican food made fresh daily.