White Butte
Get In Contact
White Butte ,
SE Of Amidon,
Copy Address
| Address copied to clipboard
White Butte is the highest point in North Dakota at an elevation of 3,506 feet above sea level. Located in the southwestern part of the state between the cities of Amidon and Bowman, the natural wonder is a popular hiking destination for outdoor enthusiasts. 
The butte is part of the Dakota Hogback formation, which consists of sedimentary rock that was deposited over 60 million years ago. The rock layers are tilted, giving the butte its distinctive shape that can make for a challenging ascent for some hikers.
To reach the summit, visitors hike a trail that is approximately 1.5 miles round trip. Upon reaching the summit, hikers are rewarded with panoramic views of the surrounding landscape, including the badlands and prairies of North Dakota. On a clear day, it is possible to see for miles in every direction, making it a popular spot for photography and sightseeing. On top of White Butte sits a metal sign with information on how to redeem a local coupon book and get a discount on a White Butte t-shirt. Visitor's are encouraged to sign the paper guestbook and also submit their photos to the digital guestbook available only through the secret website page accessed while atop of White Butte.

In addition to its natural beauty, White Butte also has cultural significance for the local Dakota and Lakota tribes, who consider it a sacred site. Visitors are asked to respect the area and its cultural significance by following trail etiquette and leaving no trace of their visit. 
White Butte is a unique and rewarding destination for hikers and nature lovers in North Dakota. The areas combination of natural beauty, challenging terrain, and cultural significance along with its distinction as a highpoint make it a must-stop for outdoor enthusiasts traveling through the area.
The Trail 
At the trailhead is a donation box by the trail gate, be sure to secure gate after passing through. This trail is frequented by high-pointers and is popular for recreationists. The best times to visit this trail are March through October. high point is easy for serious hikers and moderate for recreational hikers. A few steep/scramble/slippery/washout spots provide some challenge to unexperienced hikers. Total round trip time from trailhead comfortably under 90 minutes. 
Tips
Wear long pants and sunscreen. There is almost no cover on the trail. A hat and sunglasses are recommended.
Hiking shoes or boots are recommended because of diverse terrain. The short hike has loose gravel, slippery clay, tall prairie grasses and thorny brush in short segments.
Beware of rattlesnakes. This is favorable habitat for snakes.
Pack plenty of water.
Respect the land, leave only your name in the logbook and footprints behind.
Appreciate the landowner for providing access by leaving a donation.
As a precaution, avoid kicking up and respirating dust from the butte. The soils may pose health risks if inhaled.
Getting There
From Amidon head East on Highway 85 for 2 miles. Turn Right onto gravel road 140th Ave SW at green highway sign. Drive 5 miles, turn Right onto 69th Street SW at black and white sign. Drive 1 mile, turn Left onto White Butte Trail Rd. Drive .7 miles and you will arrive at the White Butte Trailhead parking.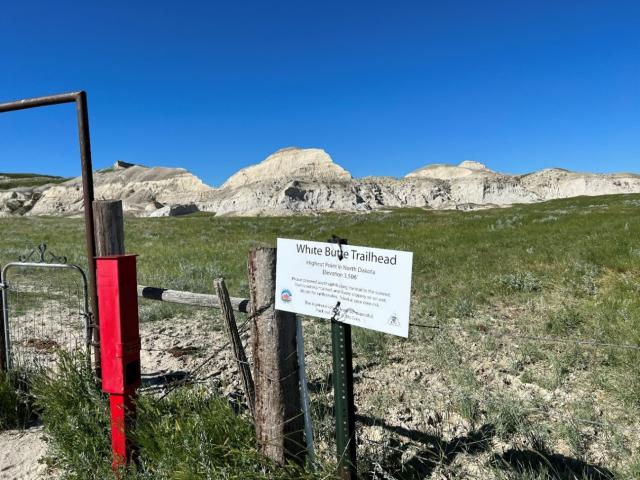 All Features
General Information

Family-Friendly,
Pet-Friendly