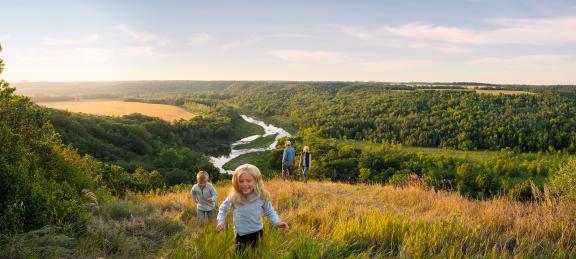 Walhalla
Walhalla is one of the earliest settlements in North Dakota. Visit this town and surrounding area in northeast North Dakota to experience friendly people, games and a scenic outdoor landscape. Get your trip started with a visit to Waters Family Restaurant and Bakery for a little grub before heading up the road for a history lesson, a round of golf or a canoe and kayaking trip. Gingras Trading Post State Historic Site takes visitors back in time to the 1840s home and trading post of Métis legislator and businessman Antoine Blanc Gingras. Métis, meaning "mixed blood" or "mixed race," is a term used by people of combined Indian and European ancestry to describe themselves. Learn their story and that of this part of North Dakota at the trading post.
Then head over to the Pembina Gorge State Recreation Area, which provides thousands of acres of unspoiled wilderness and trails perfect for hike, biking, ATVing and even off-road motorcycling. It's also home to Frost Fire Ski and Snowboard Area and the Frost Fire Summer Theatre. To get an up-close look at the gorge without leaving your vehicle, take the Rendezvous Region Scenic Backway. Stop in for a homemade pizza at the Howatt Hangar, a bar and grill in the lodge at Frost Fire Park, which also offers appetizers and many other entree options to appease any appetite.
Round out your trip with a lap or two around Walhalla Country Club, a nine-hole layout on the edge of the Pembina Gorge.