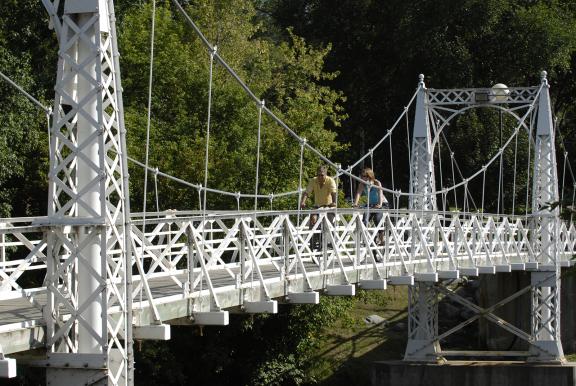 Valley City
Begin your tour of Valley City at the Rosebud Visitor Center. You will learn the history of the Red River Valley through insightful exhibits that include an 1881 Superintendent's railcar with the original furnishings.  It is the original "motorhome" used by the superintendent, his secretary and his cook. This Northern Pacific car is one of a kind. Railroad history comes to life inside and at the outdoor displays.
To get a feel of what Valley City is all about, take a walking tour of the City of Bridges, including the 3,860-foot-long, 162-foot-high Highline Bridge that is one of the highest and longest single-track railroad bridges in the nation. Staying in the outdoors, play a round of golf at Bjornson Park Golf Course or visit Medicine Wheel Park with its solar calendar, Native American burial mounds and scenic overlook.
Take an out-of-this-world tour of more than 2,500 stars at the Valley City State Planetarium followed by a stroll downtown to look for unique gifts at shops like Unique Antiques, Noos Shop, Catwalk Boutique, Kyly Creations and Urban Couture.
Whether on foot or, in a car or on a motorcycle, Valley City is a hop-on point for a national recreation trail and a nationally recognized byway. Segment of the North Country National Scenic Trail leads through the city as it winds from New York to North Dakota. The Sheyenne River Valley National Scenic Byway winds its way through Valley City past quaint towns and wooded hills to Fort Ransom. Bicycle rentals are available at the Gaukler Wellness Center.
Things to see and do in Valley City