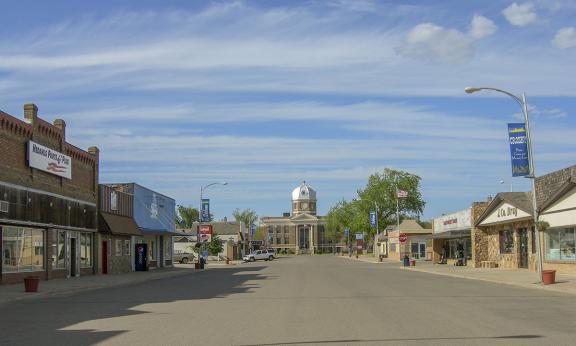 Crosby
Crosby is a small city in North Dakota with a population of just over 1,000 people. However, it is home to a surprising number of things to see and do, making it a great destination for a weekend getaway or a longer vacation.
Interested in history? The Divide County Courthouse is beautiful building is listed on the National Register of Historic Places. It features ornate decorations, stained glass, and mosaic floors and is considered a jewel on the prairie. The courthouse is open 8am-5pm most weekdays. The Pioneer Village is a living history museum and is home to many original structures from Divide County's past. You can also see antique steam tractors and other farm machinery. The village is open by appointment. Writing Rock State Historic Site features two granite boulders inscribed with thunderbird figures. The site is open year-round and offers picnic facilities, a playground, and restrooms.
If you'd like to cool off in the summer, the Crosby Swimming Pool/Splash Pad is a great place to do so. The splash pad is open from May to September. In the mood for a round of golf? The Crosby Country Club is a nine-hole golf course and a great place to play golf. The club also offers cross-country skiing in the winter.
If you are interested in art, the Meadowlarks Arts Council promotes the arts in Divide County by offering a variety of events and programs, including concerts, plays, and art exhibits. Or Dakota Theater also hosts a variety of performances, including plays, concerts, and movies.
Crosby also has a number of restaurants, bars, and shops. There is something for everyone in this small town.