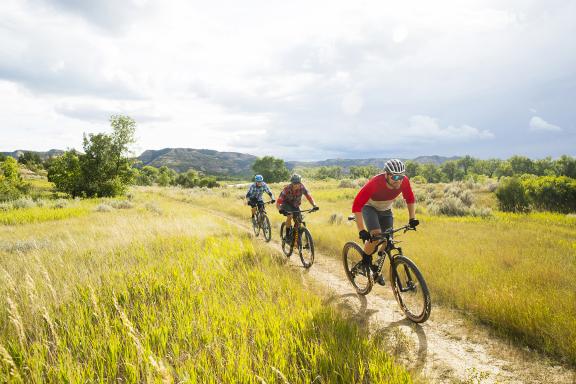 North Dakota 20 in 20: Spring has Sprung
Spring has sprung. It's time to put away the snow skis and break out the water skis … almost. Until then, hike, bike and visit places in the state you've only heard about. Follow your curiosity, not the crowd, into the outdoors where getting away from it all has always been the name of the game. Follow the advice of health care professionals and in the case of events, check to see that they are taking place, before practicing any of the activities listed here. 
Hiking
National Trails Day (June 6) is set aside to recognize the best trails, but why wait until June to take advantage of hikes along the Maah Daah Hey Trail or the North Country National Scenic Trail. In fact, thousands of miles of trails across the state are waiting for you to leave your non-carbon footprint.
Road Warriors
Forget Mad Max. You're more likely to see Glad Max as you leisurely peddle around north-central North Dakota near the Canadian border. Bike the Border is a multi-day leisurely ride through smalls towns, beginning and ending in Bottineau in June. This isn't a race, so remember, it's the journey that matters.
TRNP x 3
June 12 marks the date 72 years ago that the North Unit was added to the South and Elkhorn Ranch units of Theodore Roosevelt National Park. Mark the weekend with a visit to each unit. Little has changed in the rugged Badlands since that time: winds still blow through Wind Canyon; Oxbow Overlook still overlooks the Little Missouri River and bison roam freely within park boundaries.
Get Yer Motor Running
North Dakota's open roads are made for two wheeling. Small towns, light traffic and sites to see are reasons enough to hit the road. Take a tour down the Enchanted Highway and to a myriad of other larger-than-life tributes along North Dakota's highways and byways.
FORE! Yeh Right
Probably more like five or six. Nobody cares if you shave scores when you golf one of our premier courses: Bully Pulpit, Hawktree, Links of North Dakota or King's Walk. Who hasn't used a footwedge or three to card that 25-over? Regardless of your skill level, these courses can fit your game, the scenery is an add-on.
Flora and Fauna Come to Life
Spring is a time of birth and rebirth. Young wildlife perform entertaining dances through herds of bison and deer. Prairie flowers across the state spring back to life, applying a colorful brushstroke to the landscape. See them at the most vibrant at sunrise or sunset.
How Far(go) Can You Go?
The Fargo Marathon isn't just a race, it's an experience for runners and fans alike. Thousands of runners tackle the fast 26.2-mile course and even more line the route to enjoy music, entertainment and food. Pet lovers can show rover how much they care by running with them in the Furgo Dog Run.
WET Suited for Water
Get wet, get fit, get some friends and swim downstream in the Red River at the END-WET (Extreme North Dakota Water Endurance Test) adventure race. The event ends in Grand Forks-East Grand Fork, Minn., where you can dry off and toast your success with other aquanauts.
Is That Sprague's Pipit?
It is! But it's only one of the many species of birds you'll see during a stay at Pipestem Creek lodging and nature retreat. Treat yourself to some quiet time with family and friends and stroll the gardens in search of species that inhabit the Central Flyway near Carrington.
How Bad Are You?
Bad enough to ride a mountain bike for 24 straight hours through the Badlands? The BAD24HR race near the north unit of Theodore Roosevelt National Park will push your biking skills and endurance to the limit. Should be fun.
Over, Under, Through
Channel your inner Teddy Roosevelt in the Bull Moose MudRun. Just get from point A to point B – both the Medora Family Fun Center – any way you can along a course through the Badlands. Courses are set up for fun, competitive and endurance events.
OHV … Oh My Goodness
Off-roading is one great way to get into nature without having to hike or bike. Let your ATV take you deep into the wilderness on some of North Dakota's maintained OHV trails. Adventure awaits from the Desert to the Gorge to the Mountains.
Hello Mother, Hello Father
Mom and Dad are larger than life. That's why May and June have days set aside to honor the folks. Take them golfing (let them win) or treat them to a dinner cruise on the Lewis and Clark Riverboat. Remember, it's your turn to buy.
White Horse Hill
The name has changed from Sullys Hill to White Horse Hill, but 250 species of birds still soar over bison, elk and deer at this national game preserve on the shores of Devils Lake. Driving and walking trails are within the preserve.
Center of Softball Universe
Knock it out of the park yourself, or watch others, at the McQuade Charity Softball Tournament. Teams from as far away as California make the midsummer classic one of the largest slowpitch softball tournaments in the world. More than 400 teams put on an annual show with contests, vendors, food and – oh yes – softball. It's the party of the summer.
Feasts for Foodies
Rib season kicks off with Happy Harry's Ribfest in Fargo. Once you've polished off the ribs, settle in for some awesome musical entertainment under the stars. Find weeks' worth of unique eats here.
Hot Dogs, Popcorn, Homers
Three sure signs of summer. Sit back and watch the Mudville nine take it to those other guys. The good guys range from summer collegiate wood-bat teams in Bismarck, Dickinson and Minot to the independent American Association's Fargo-Moorhead RedHawks. 
Let's go Fishing!
No you didn't die and go to heaven. But you're close. North Dakota has some of the best fishing waters, there's not a lot of other anglers in your way and the season is eternal. That's right, it never ends.
Brews or Twoz
Warmer spring evenings beckon, and so do friends who want to get together for an evening. Craft breweries throughout North Dakota are gathering places featuring music, craft beers and outdoor seating.
It's up to You
This is only a small sampling of the many ways to Be Legendary this spring in North Dakota. There are many other things to see and do. Click here for all the ways to Be Legendary.