5th Annual Spiritwood Resort Lake Jam
Get In Contact
Spiritwood Resort,
435 Spirit Inn Road,
Copy Address
| Address copied to clipboard
June 23, 2023 9:00pm to 2:00am
June 24, 2023 9:00pm to 2:00am
If you've never been here for Lake Jam, this is one event you need to put on your calendar every year!! This year we have 2 nights of entertainment with 4 bands!
Night 1: June 23, 2023 Back for More will start the night off and get you up on your feet starting at 9pm! Next, Zep-LA rises above the rest of the Led Zeppelin tribute bands with a 100% LIVE tribute show! Zep-LA recreates the magic of a Led Zeppelin concert like no one else can and will leave you astounded!
Night 2: June 24, 2023 DJ & The Atomics will get you in the mood to rock the night away starting at 9pm! Next, Bohemian Queen-considered the #1 Queen theatrical tribute band will leave you speechless! If you are a Queen fan-get your tickets now for this fantastic show!
Weekend and single night concert passes available. Check out https://www.spiritwoodresort.com/events for the Lake Jam events. Get your advance tickets now, weekend passes are $70 at the door; single day passes are $45 at the door.
Thank you to our 5th Annual Spiritwood Resort Lake Jam Sponsors
Scherbenske Incorporated
Wilhelm Heartland Chevy
Dakota Central
Greshik Seed Sales
Dura Deck Tarp Pro
First Community Credit Union
Dakota Awards
Dale's Auto Mall & More
Heritage Insurance Services
Dakota Apiaries & Logistics
Cork & Barrel
Thrivent Financial – Kevin Metzger
Albrecht Farms
Reflections Salon
https://www.spiritwoodresort.com/events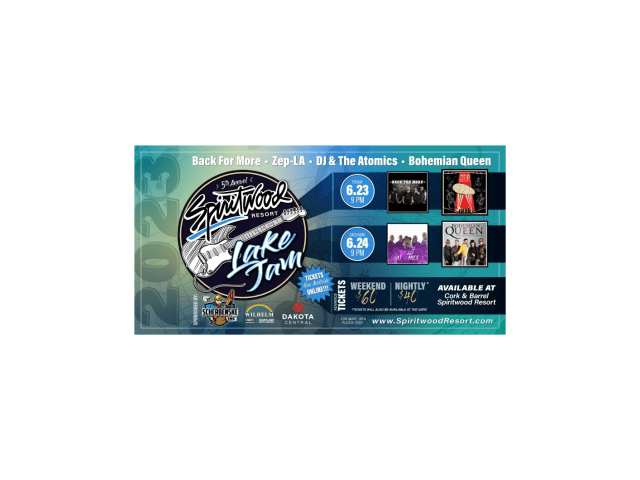 All Features