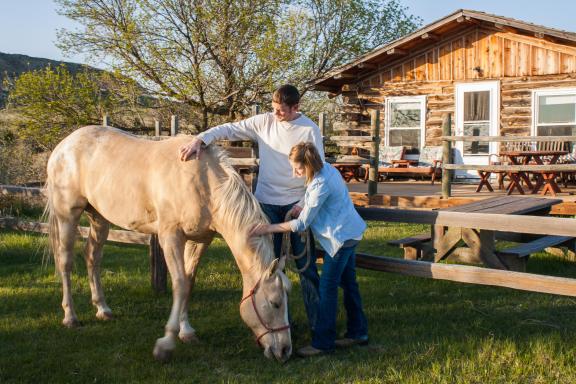 Western Culture
Western culture is still alive in North Dakota, a state that is home to cowboys and Native Americans, rodeos and powwows, forts and villages and a lot more that hearkens back to the Old West. 
Theodore Roosevelt National Park
It's the Grand Canyon of the North, only half as deep and a lot more complex. It has great opportunities for take-your-breath-away hiking, biking and scenic viewing.
The 70,000-acre Theodore Roosevelt National Park and its rugged topography honor former President Theodore Roosevelt, who ranched in the Badlands and later worked toward what would become the National Park System. Roosevelt said, "I never would have been President if it had not been for my experiences in North Dakota." He came to the Badlands in 1883 to hunt and established the Maltese Cross and Elkhorn open-range cattle ranches. 
Established in 1978, the park is separated into two large units. The south unit was shaped by wind, fire and the meandering Little Missouri River. The north unit is heavily forested in places and has steeper buttes. Both offer outstanding wildlife viewing: Buffalo, deer, antelope, coyote, prairie dogs, wild horses and bald eagles are a few of the many species that make this park home.
The romantic history of the Wild West lives on in historic Medora, now a frontier tourist town. Founded by a French aristocrat, Medora boasts a 26-room chateau overlooking a walkable town of shops, cafes, museums and an amphitheater with evening performances of the Medora Musical. Barely 30 minutes away in Dickinson is the Badlands Dinosaur Museum, with 10 full-scale dinosaurs, a lab and geology exhibit.
Working Ranch Vacations
Whether you are interested in participating in a horseback trail ride, good old-fashioned cattle branding or listening to the coyotes howl while you sit in a hot tub, North Dakota offers ranch vacations that fit the bill. The western part of the state offers an assortment of working ranch vacations, such as the one at Lone Butte Ranch near Amidon. 
Guest Ranches
Take a vacation to Black Leg Ranch near McKenzie. As a welcomed guest, you will get the true Cowboy experience. You will learn from the BEST, cowboys who have bloodlines dating back to the early 1600s who were pioneers of this country. 
Rodeos and Powwows
Rodeos and powwows are celebrations held year-round. Watch women barrel race on horses that turn on a dime. Watch men ride bucking broncos and bulls. Marvel at the drumming and dancing at a powwow. For a schedule, see the North Dakota Tourism Division's events page.