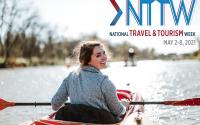 National Travel and Tourism Week
Travel and Tourism Week celebrates the "Power of Travel"
National Travel & Tourism Week (NTTW) 2021 recognizes the POWER OF TRAVEL and the travel industry's role in bringing back vibrant communities, restoring the U.S. economy, rebuilding our workforce and reconnecting America.
Prior to the COVID-19 pandemic, the travel and tourism industry was a significant contributor to the U.S. economy and exports, and supported millions of hard-working Americans of all backgrounds. Travel spending is down nearly $500 billion, costing the U.S. economy $1.1 trillion. The total number of travel-supported jobs fell by 34% from 17 million in 2019 to just 11 million in 2020.
North Dakota has competitive advantages that allowed us to continue drawing visitors throughout the year and inspire future trips. Our marketing efforts invited visitors to "follow their curiosity not the crowds" and celebrated North Dakota's wide-open spaces, outdoor and recreational opportunities, amenities, vibrant communities and road trips. These messages proved critical for our industry in 2020 and will continue to be valued in 2021 as tourism in North Dakota plays a key role in our state's economic recovery. See the 2020 Annual Report.
National Travel & Tourism Week has always been an excellent way for North Dakota's tourism industry to kick off our state's peak tourism season. We encourage you, your colleagues, your local officials and your communities to join us May 2-8 to spotlight the POWER OF TRAVEL. Keep watching your inbox for additional tools and templates you can use to show the POWER OF TRAVEL during NTTW 2021.
If you have any questions about National Travel & Tourism Week, please feel free to contact Kim Schmidt at [email protected]
HOW TO GET INVOLVED!
|   | SHARE THE POWER OF TRAVEL |
| --- | --- |
|   | |