Peace Chapel at International Peace Garden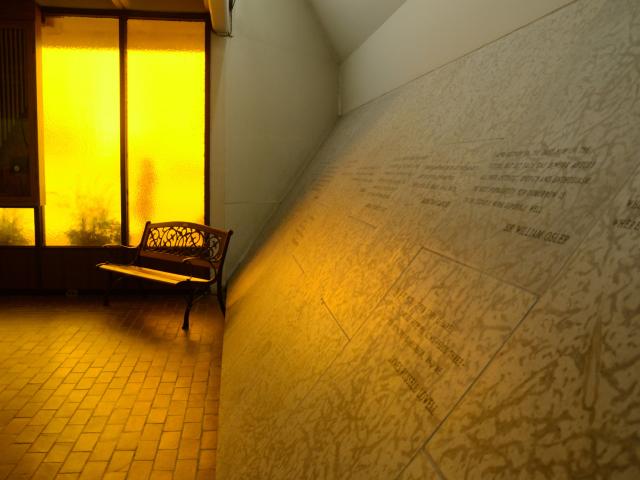 Construction of the Peace Chapel, sponsored by the General Order of the Eastern Stars, is the only edifice on the International Boundary. The roof is a two way waffle concrete slab supported on a four pairs of columns, which essentially contain the chapel seating. The central focus consists of a lectern for the formal, ceremonial functions.The beautiful brick paved flooring is from Charleston, West Virginia. Dozens of quotes etched in Tyndall Stone (limestone) walls encase three of the walls.
The engraved quotations were either spoken or written throughout history by great men of peace such as Benjamin Franklin, Alexander Graham Bell, Abraham Lincoln, Louis Pasteur, Richard M. Nixon, John F. Kennedy and more. This inspiration chapel is non-denominational. The Tyndall Stone is pitted with marine fossils molded in the beds of a tropical sea millions of years ago. This inspiration chapel is non-denominational. A unique organ, which withstands the freezing winters and the hotter summers, was donated by the family of Mr. and Mrs. Donald Stewart.
All Features
Cost of Admission
Admission
Included in the $20 gate fee