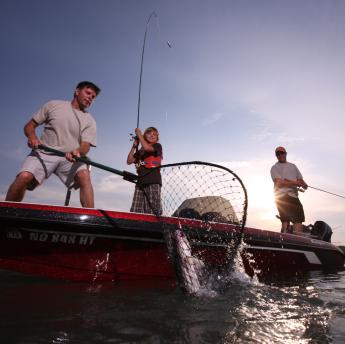 Find out more about fishing in North Dakota
Fishing
North Dakota is famous for its lakes and rivers. Walleye fishing here is among the best you'll find but there are other whoppers out there: northern pike, bass, perch and even catfish.
Fishing in North Dakota is seasonal. There's open-water season and ice-fishing season. Between them, there are no opening or closing dates in North Dakota - save for paddlefish at the confluence. In nicer falls, people coming home to be with friends for the holidays can still get on open water. When winter arrives early, they can break out the auger and head for the ice. Fishing in North Dakota is as diverse as the anglers on the (frozen) water. Its offerings range from the popular walleye to northern pike to perch and bass or salmon. There are trout in Lake Sakakawea and big ol' catfish in the Red River. Whatever your choice of fight, North Dakota has the battle for you, whether you're long-lining on the big lake, casting crankbaits from a lake shore or dropping a line through the ice.
Drop a line
Anywhere in North Dakota
Spring, summer, fall or winter, North Dakota has a fishing adventure for ever angler. Open-water or ice fishing; trolling or shore casting; just drop a line, you'll be glad you did.