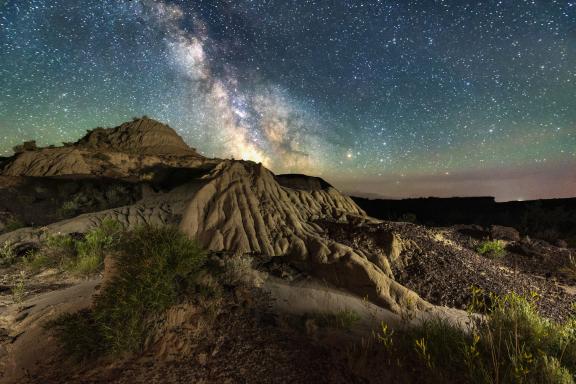 North Dakota: Northern Lights are Stargazer's Heaven
Northern Lights, galaxies, stars. See them all right here in North Dakota
Northern Lights
Most of North Dakota is perfectly suited for viewing the many wonders of the night sky, including the spectacular aurora borealis (northern lights). Those amazing lights dance across a black background in vivid green, purple and blue. Sometimes they compete for attention with a full moon that is bright enough to read by.
Click here for tips on viewing the northern lights in North Dakota
North Dakota is one of the best places to scan the dark skies for the northern lights or uncounted stars, planets and galaxies. Take a look outside on a crisp, clear night, some of the best places for viewing the northern lights are Theodore Roosevelt National Park, any of North Dakota's state parks and scenic areas like Crow Flies High Butte at New Town and Mystical Horizons in the Turtle Mountains near Bottineau.
Northern Lights watchers don't have to wait until fall or try to catch the show by chance. Some websites track the appearance of the aurora borealis and other sites go into more detail such as North Dakota Dual Aurora Camera (NoDDAC), which is a pair of consumer-grade cameras—one allsky, one north-facing—installed at Martens Observatory in North Dakota. The cameras provide a public livestream of the night sky and are able to identify and tweet when they see aurora. Since it was installed in December 2020, NoDDAC has captured many auroras, including overhead coronas, pulsating aurora, and STEVE.
Stargazing
Stargazers don't have to drive far out of our larger cities and towns to be alone with the rest of the universe. Staring up, we wonder what's there. We contemplate things we can't understand like how far is a thousand light years? Sometimes we're treated to meteor showers or the twinkling lights of jets flying over or a steady line of Starlink satellites; even the International Space Station cruising past.
Some of the better stargazing spots include:
1. Pembina Gorge
Enjoy a short hike on the Tetrault Trail and spoil yourself with gorgeous overlook where you can take in the Pembina River, the rolling hills and of course those sparkling stars above.
">
2. Sully Creek State Park
Imagine yourself staring up at a sky full of dazzling stars with the sounds of water calmly rolling at your feet. That right there is paradise.
3. Fort Abraham Lincoln State Park 
The stars have been first-hand witnesses to North Dakota history. Experience it yourself by posting up at their campsite and strolling through the reconstructed earthlodge village.
4. Theodore Roosevelt National Park
A star show doesn't get any better than here. Open 24 hours a day, you can sit and appreciate the quiet beauty of this national park with no interruptions.
5. Sheyenne National Grassland
With big horizons, comes big skies. The prairies of the Sheyenne National Grasslands are perfect to take in endless stars in the blink of an eye.