Get the Full Picture on North Dakota's Diverse Culture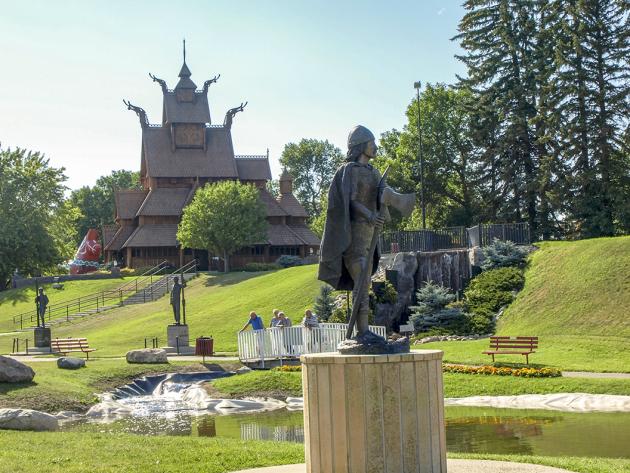 Cultural diversity enriches lives and nowhere is the blending of culture more prevalent than here, where people from around the world have co-existed with respect and harmony.
Swiss painter Karl Bodmer was the first artist to go into painstaking detail to accurately capture Native American culture in North Dakota. In the early 1830s, Bodmer painted 81 aquatints, the prints of which can be seen today at the Lewis and Clark Interpretive Center in Washburn. The center's Bergquist Gallery displays the prints on a rotation, with no fewer than nine in the gallery at any one time and others displayed throughout the center.
The legends of the First People, explorers, pioneers and settlers are woven into North Dakota's story. Their stories come to life at powwows and museums throughout the state. Doing Bodmer one better, museums dedicated to the art, history and culture of Native America tribes in North Dakota can be found at museums like the Turtle Mountain Chippewa Indian Heritage Center at Belcourt, Three Affiliated Tribes Museum in New Town, Sitting Bull Visitors Center in Fort Yates and Knife River Indian Villages National Historic Site at Stanton.
The North Dakota Heritage Center and State Museum in Bismarck houses a picture of Sitting Bull done by Catherine Weldon, as depicted in the movie "Woman Walks Ahead." The museum's Native American Hall of Honors is a rotating exhibiting highlighting prominent Native Americans. The museum has enough items to fill galleries to Hell Creek Formation and back.
The cowboy is another prominent figure in North Dakota culture and the North Dakota Cowboy Hall of Fame in Medora seamlessly blends the history of ranching, rodeo and Native Americans. Photos, displays and video bring the cowboy to life.
Scandinavia influenced our culture, with recent census data showing that 30% of North Dakotans trace their ancestry to Norway. This culture is on display and celebrated at the Scandinavian Heritage Museum in Minot, which pays homage to the five Nordic countries of Denmark, Finland, Iceland, Norway and Sweden. 
Ukrainians settled in the Dickinson area and their influence can still be seen today. Learn more about their colorful Easter Egg art and dance at the Ukrainian Cultural Institute. Meanwhile, in Mountain, the annual Deuce of August celebration is dedicated to North Dakotans of Icelandic Heritage,
Find out more about the arts and culture in North Dakota on The Arts page at NDtourism.com.