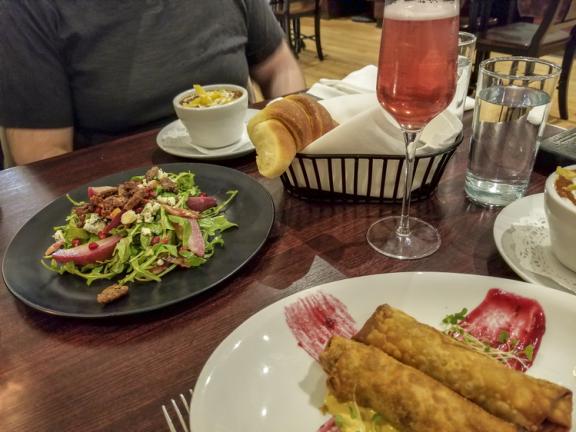 Farm to Table
Fresh, and locally sourced modern cuisine awaits
If you are looking for some of the freshest, mouth-watering, and seasonally-unique foods, you need to grab a seat at these Farm to Table establishments.
Anamoose
Farmtastic Heritage Foods Hub
Farmtastic is a farm to table family operated restaurant, a European pastry shop, and an aggregation, distribution and light processing facility for small local vegetables and fruits growers with a certified kitchen.
Bismarck
Butterhorn
The cuisine focuses on French and Italian influences while incorporating local ingredients to promote the use of seasonal produce and proteins from right here in the Midwest.
Huckleberry House
Modern interpretation of Nordic dishes accompanied by creative cocktails served in sleek surroundings at this riverside restaurant.
Pirogue Grille
Food is sourced from top quality seasonal ingredients, featuring local and organic components whenever possible.
Fargo
Mezzaluna
Mezzaluna utilizes locally sourced products in a seasonally inspired menu based on traditional American fare served in a refurbished 1917 office and warehouse. A diverse wine list has been created to complement the cuisine.
Rosewild
Honoring Dakotan sensibilities and rural Nordic techniques, Rosewild elevates traditional rustic Plains preparations that rely on preservation, fermentation, and foraging of the land.
Grand Forks
Ely's Ivy
Partnered with local farmers, ranchers, and craft beer makers, count on Ely's Ivy to serve fresh new dishes with each visit.
The Blue Moose Bar & Grill
Lodge-like locale with a menu ranging from tapas to burgers, seafood to BBQ ribs, plus beer on tap.
Watford City
Outlaws Bar & Grill
A Dakota original since 2006, Outlaws' Bar and Grill prides itself on its mouth-watering, locally sourced USDA Choice steaks.